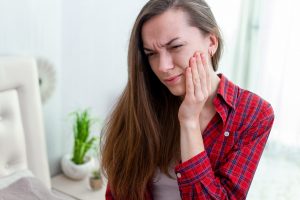 When you experience pain while biting and chewing, even your favorite meal can lose its appeal. Problems with jaw pain, stiffness, and sensitivity can make it hard for you to eat, and may even interfere with your ability to speak over time. At our Prairie Village, KS dental practice, we can talk to patients with this discomfort about TMJ disorder, and we can help them put an end to their problems. With a custom appliance, we can put alleviate the stress on your jaw joints and muscles that causes your pain. It should be noted that when patients arrange regular dental appointments, they can receive regular updates about their oral health, and have a problem with TMJ disorder addressed when it starts to affect their quality of life.
Discomfort When You Bite And Chew? It Could Be TMJ Disorder
If you regularly feel uncomfortable while biting and chewing food, or struggle to move your jaw without pain or stiffness, TMJ disorder could be the cause. Other symptoms of TMJ disorder include headaches, teeth grinding, and pain in your neck and shoulders. This problem can affect people for different reasons – for one person, it can be linked to untreated arthritis in their jaw joints, while another person can have issues because of a flawed bite motion. When your dentist recognizes that TMJ disorder is a concern for you, they can provide a custom appliance to address your discomfort.
Addressing Problems With TMJ Disorder
Wearing a custom oral appliance from your dentist can put a stop to chronic pain by reducing the strain you feel in your jaw. Whenever it is worn, the appliance will gently adjust the position of your jaw to encourage this relaxation. For people who struggle with teeth grinding at night, an appliance can keep their teeth safely apart.
Maintaining Your Oral Health Through Regular Dental Exams
At every regular dental exam, your dentist is committed to finding any oral health problems you might have. Your evaluation can lead to the discovery of a cavity, poor periodontal health, issues with TMJ disorder, and other dental concerns. Once a problem is found, it can be addressed before it can worsen and create additional worries for you.
Talk To Dr. Browne About Pain You Experience When Biting And Chewing
If you have problems with pain, stiffness, or sensitivity whenever you bite and chew, TMJ disorder could be the cause. At our Prairie Village, KS dental office, Dr. Browne can recognize the symptoms of TMJ disorder and recommend treatment to put a stop to your discomfort! This is one of many oral health issues we are prepared to identify and address when you visit our practice. If you would like to learn more, or set up an appointment with Dr. Browne, contact our office today at (913) 901-8585.