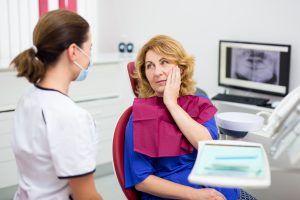 Dental enamel is a remarkably strong material, capable of keeping our teeth healthy even as they suffer impact from biting and chewing. Unfortunately, cavities can do real damage to this substance, and expose us to infections that lead to discomfort, and potential tooth loss! If you suffer from an advanced cavity that leads to an internal infection, or if your tooth's inner chamber is exposed after an injury, it can be important to schedule a root canal procedure as soon as possible. If care is not arranged, bacteria can continue spreading and create new problems for you. At our Prairie Village, KS dental office, we can make sure your problem tooth is completely restored by performing a root canal procedure!
Internal Tooth Issues Can Cause Serious Discomfort
Teeth are supported by living nerves housed in an inner chamber known as the pulp. When a cavity first forms, the problem will only affect your enamel, but over time the damage can expose your tooth's interior to infection. When that occurs, you can experience serious dental pain and sensitivity until the matter is treated. If you put off restorative dental work at this point, it is possible for irreversible damage to occur, and cause the loss of your tooth!
What To Expect When You Schedule A Root Canal Procedure
During a root canal procedure, your dentist will carefully access your pulp so that infected tissues can be removed. Our goal when caring for a tooth in this way is to eliminate the infection while minimizing the effect on your healthy tooth structure. Once the procedure is completed, your tooth can be restored with a dental crown. If you are worried about the effect that a restoration might have on your smile, you can arrange the placement of a lifelike crown made from porcelain or zirconia.
Anxious About Treatment? We Can Provide Sedation To Make You Comfortable
People sometimes fear that their root canal treatment will be an unpleasant experience, and put off care. This puts your tooth in jeopardy, and it means you will have to spend more time with dental pain and sensitivity. In addition to providing anesthetic to make the process comfortable, we can make your dental procedure more comfortable through sedation. Nitrous oxide helps patients stay conscious, but in a relaxed state. The effects of this agent wear off quickly, so you will not have to worry about arranging transportation to or from your procedure.
Schedule Your Root Canal Procedure With Dr. Browne!
If you have a problem with your oral health, Dr. Browne is ready to help! We have provided important restorative services for people in and around the Prairie Village community. To learn more or to schedule a visit with Dr. Browne, contact our office today at (913) 901-8585.