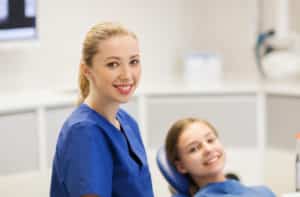 When you maintain good oral health habits, you can significantly reduce your chances of developing problems with your teeth. Preventive dentistry emphasizes actions that stop problems from cropping up in the first place. Some measures can be taken on your own. By cleaning your teeth regularly, and limiting your consumption of foods and drinks that can harm your teeth, you can keep them in good condition. However, preventive dentistry also involves help from your dentist. The examination and cleaning that you receive when you attend a checkup can be important elements in the fight to avoid dental problems.
True Or False: Diamond Is The Only Substance Harder Than Your Enamel
True! The hardness of your enamel offers a degree of natural protection against decay. However, you still have to take an active role in protecting your teeth from cavities. Regularly brushing and flossing can keep harmful debris off of your teeth.
True Or False: On Average, A Person Should See Their Dentist For A Checkup Every Six Months
True! Some people can have different relative risks, but typically a patient should plan to visit the dentist every six months.
True Or False: Bruxism Can Be Annoying, But It Will Not Cause Serious Problems
False! Teeth grinding due to bruxism puts your teeth under regular duress. If you do not seek bruxism treatment from your dentist, you could actually damage teeth to the point that you need restorative dental care.
True Or False: Your Diet Can Affect Your Risk For Tooth Decay
True! Acidic items and sugar can both have a detrimental effect on your teeth. Your diet can also affect their appearance. Foods and beverages that are darker or richer in color can cause stains to form in your teeth.
ABOUT YOUR PRAIRIE VILLAGE

, KS

DENTIST

:
With decades of professional dental care experience, native of Kansas City, Robert M Browne, DDS is proud to provide general, cosmetic, restorative, and prosthetic care to patients from Prairie Village and surrounding communities. To learn more or to schedule a visit with Dr. Browne, contact our office today at (913) 901-8585.