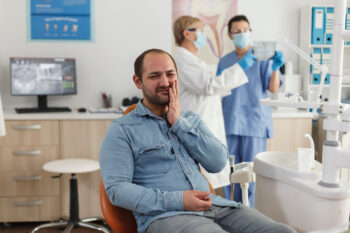 Dental discomfort can stop you from enjoying a meal, and it can become a distraction that seems to take over your entire day. What should you do if you are struggling to focus on anything beyond your pain, or when you suspect something is seriously wrong with your oral health? Our dental office in Prairie Village, KS is prepared to provide emergency oral health services. Because of this, we are ready to help when you need to do something about a potentially serious tooth problem. Through timely care, we can stop problems from an injury or infection from growing more severe, which means we can provide relief before there is any further trouble with your oral health that needs to be addressed.
Significant Dental Pain Can Call For Prompt Smile Care
A significant or persistent pain can certainly make you nervous about the state of your oral health. Because discomfort can be a warning that your tooth is in need of prompt care, it can be a relief to know that you have access to emergency dental work. To properly address the problem, it may be necessary for us to provide restorative dental work that includes root canal therapy. This procedure deals with problems within the tooth structure so that they no longer create issues for your well-being, and to stop them from spreading through the roots of a tooth to create more problems.
Our Practice Is Ready To Provide Reliable Emergency Treatment
We are prepared to support your oral health at a time when you need attention on short notice. When you arrive, Dr. Browne will examine you to determine what kind of support you require. That review will tell us if it is necessary to provide root canal therapy. If so, we can perform the procedure and make plans to permanently protect your tooth with a custom dental crown.
Reduce Your Risk For Problems With Regular Checkups
Regular dental checkups are beneficial for several reasons, including reasons that concern cavity formation and early treatment. Simply put, we can recognize when something is wrong before you start to experience issues with discomfort. By providing cavity care before an infection develops, we can make sure that less of your tooth structure is permanently damaged, and we can protect the inner chamber of your tooth from potential problems.
Talk To Your Prairie Village, KS Dentist About Dental Discomfort And Emergency Care
Through emergency dental work, we can put a stop to tooth pain and the reason for your discomfort, and we can make sure that your oral health is protected from any further issues. If you would like to know more about our urgent care, or if you have questions about our general services, please reach out to our Prairie Village, KS dentist's office at 913-901-8585.