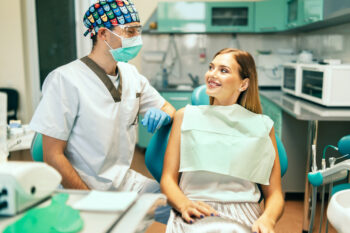 When you consider how much trouble a dental problem can cause, it is hard not to feel distressed when you have unexpected trouble with your smile. An injury or the start of noteworthy pain can bring your day to a halt, and it can lead to stress over how you will arrange treatment as well as concern over your appearance and well-being. Fortunately, your Prairie Village, KS dentist's office is here to help! We want our patients to know that we will be here for them in situations where they require prompt treatment. Our emergency dental services make it easier to prevent complications and ensure that a problem with a tooth's condition and well-being receives the right response.
It Can Be Hard To Remain Calm About Unexpected Oral Health Trouble
When your tooth takes on noticeable damage, or when you have an alarming amount of pain, it can be difficult to remain calm and collected. With that said, oral health issues become even harder to deal with when you are not sure how to respond to them. You should know that when something is hard to manage or a problem for your smile, our practice can help with oral health trouble on short notice. Through your emergency restorative dental work, you can receive support that addresses trouble with your tooth's well-being as well as its appearance.
Scheduling Your Emergency Service
Once you contact our practice and let us know what you are dealing with, we can make the right arrangements to care for you when you are in our office. Upon your arrival, Dr. Browne can examine you and determine what kind of support you will need to put trouble behind you. Internal injuries and problems related to advanced dental decay can require more involved services, including root canal therapy. Depending on the state of your tooth structure and the kind of care you receive, you can look forward to different restorative services to protect you after your procedure. In some cases, you can actually rely on cosmetic dental work to hide physical trauma. The benefit to this is that your care only requires limited changes to your enamel while chips, cracks, and other physical damages are addressed.
Talk To Your Prairie Village, KS Dentist About Our Emergency Oral Health Services
Through timely treatment, our practice can promptly resolve what could be a stressful and hard-to-manage oral health problem. Patients of Dr. Browne should know that emergency services are available to them, and that we can put a stop to issues by restoring both the appearance and health of a tooth that is in a vulnerable position. If you would like to find out more, please reach out to our Prairie Village, KS dentist's office at 913-901-8585.