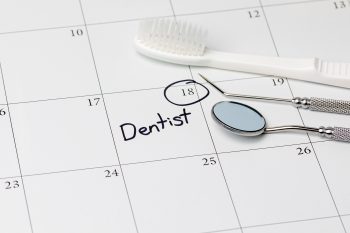 If your next dental exam is not scheduled yet, you should make that next appointment a priority. Semiannual dental exams provide an important line of defense between you and the different threats that can impact your smile and overall health. Our Prairie Village, KS dentist's office can provide you with the kind of preventive services that help you avoid different oral health concerns. Your regular checkups are an important line of defense against tooth decay and gum disease. They also provide early warnings and treatment options when other issues threaten your well-being or quality of life.
How Long Should I Go Between Dental Appointments?
Unless your dentist tells you to follow something different, you should arrange routine dental exams on a semiannual basis. Every six months, your checkups will provide helpful feedback concerning your oral health. This interval ensures that any problems you experience can be caught and treated before there are complications. These visits also provide thorough cleanings that remove the harmful materials that make problems more likely to form.
Booking Your Next Exam
At your next dental exam, Dr. Browne can help you with your concerns about gum disease and tooth decay. Your regular reviews will lead to the discovery and treatment of active problems. For gingivitis, we can recommend an ultrasonic scaling to remove bacteria and give your gums the opportunity to heal. We discuss restorative dental work if you have a cavity. In addition to discussing these concerns, we can provide warnings about evidence of poor jaw movement and alignment, which can lead to persistent TMJ pains. We can also look out for potentially serious problems like oral cancer.
What If My Dentist Finds Something Wrong With My Smile?
If it is necessary to do so, we can plan restorative work to address problems with dental decay. The good news is that when a cavity is caught in time, we can address it with a conservative dental filling. The fillings that are provided to our patients can bond with tooth enamel and match its appearance. For a more advanced cavity, we can instead use a dental crown. Crowns are made with different material types, including materials that can imitate healthy enamel.
Talk To Your Prairie Village, KS Dentist To Schedule Your Next Exam
Is it time for your next dental exam? Your next appointment should be booked—if it is not, you can fall behind on important care! Our practice is here to support patients who want to make sure that their teeth and gums are healthy. When we provide treatments, we can use restorations that preserve your smile as they also restore your oral health. If you would like to learn more, reach out to our Prairie Village, KS dentist's office at 913-901-8585.