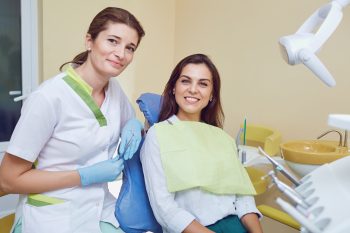 When you go in for your next dental checkup, you may have several questions. It may come as no surprise that your dentist is prepared to answer the question of whether you have any cavities that need to be treated. However, you may be unsure of what else you can discuss during an appointment? Remember that preventive dental appointments are intended to help you preserve your healthy, confident smile. Questions about your hygiene routine, potential problems beyond tooth decay, and other matters that concern you can be addressed. Our Prairie Village, KS dentist's office is ready to resolve any concern or confusion about what sort of support is available to you. Remember that in addition to preventive and restorative services, we can also help you smile with more confidence by providing cosmetic treatment!
Checkups Provide Important Feedback About Your Oral Health
The general feedback that is provided at a routine dental checkup can confirm that your smile is healthy, or it can alert you to any problems that call for attention. For those who do not have problems that need treatment, it is important to regularly confirm that your teeth and gums are in good health. You may not feel any changes at first when a cavity forms, and you may overlook early warning signs of gingivitis. By seeing your dentist on a consistent basis, you can be clear as to whether there are any issues that need attention. If you are told that you have a problem, you can discuss treatment, and that can lead to a resolution that stops difficulties from growing more severe over time.
Discussing Concerns About Your Smile And Oral Health
If you have issues that concern you about your oral health, let your dentist know. This means more than just talking about any toothaches or cosmetic changes. You can also bring up trouble in the form of bite discomfort, or a tendency to grind or clench your teeth while you rest. These issues can often be addressed through oral appliance therapy to address TMJ disorder, a problem with the alignment of your jaw joints. Treatment can lead to a reduction in bite pain, and it can even help reduce issues with headaches that may affect you.
Can I Ask About Cosmetic Treatment?
Bothered by a dental flaw that does not call for restorative treatment? If so, you can ask your dentist what your options are for cosmetic dentistry! The right procedure can address discoloration, visible dental damage or wear and tear, and even problems with the shape or size of a tooth that make it stand out.
See Dr. Browne For Your Next Dental Checkup!
Dr. Browne is ready to provide important care for patients who are due (or overdue) for their next checkup! To find out more, please contact our Prairie Village, KS dental office today at 913-901-8585.