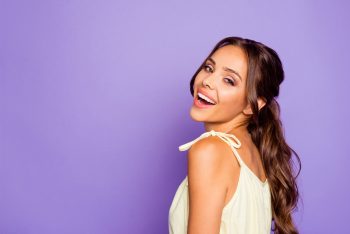 We often think about dental damage as the result of a physical injury that chips or crack your enamel. This can happen, and if can be a serious concern. In addition, you should also be wary of problems with wear and tear that can worsen over time. Years of friction and enamel erosion can make teeth look less healthy, and make you less comfortable with the way you look. These are all issues that you can bring up with your Prairie Village, KS dentist as you discuss your options for cosmetic treatment. One option we offer to address these issues involves treatment with porcelain veneers to positively change the shape, size, and color of teeth that currently look less than attractive.
Are You Bothered By Visible Damage That Affects Your Teeth?
Whether you have a single chipped or cracked tooth, or a larger problem with wear and tear that makes your smile appear older or less healthy, cosmetic treatment can help. Damage can sometimes call for restorative treatment, but for many it will be possible to move forward with a more conservative cosmetic dental procedure. This means we can take care of your concerns while minimizing changes to your tooth structure. We can make changes with veneers by covering damaged, misshapen, or discolored teeth with custom shells carefully designed to make natural-looking and exciting improvements!
Changing Your Smile With Porcelain Veneers
Porcelain veneers are slender restorations that your dentist will affix to the fronts of teeth that need to be restored. Before you receive your veneers, we will do minor preparatory work to make sure they fit and stay in place, and we will also take the necessary measurements to provide custom shells. At a follow-up visit, your dentist will confirm that these restorations are right for you, then put them in place to make your smile brighter and more uniform!
What Else Can You Do To Address Dental Damage?
A tooth bonding and contouring procedure can restore a tooth that is damaged or misshapen without the need to place any restoration at all. Instead, we can make changes by reshaping the tooth (when necessary) and hiding any visible chips or cracks with a composite resin material. If you have an injury that is serious enough to threaten your oral health, we can recommend that you receive a custom dental crown for support.
Talk To Your Prairie Village, KS Dentist About Dental Damage
Dr. Browne is ready to meet with you and help you understand how you can effectively deal with cosmetic problems brought on by dental damage. If you would like to find out more about treatment with veneers, or any other service that we offer, please contact our Prairie Village, KS dental office today at 913-901-8585.