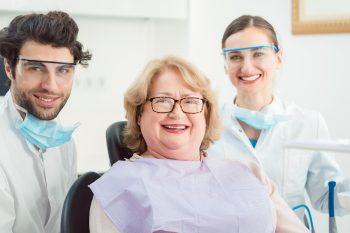 At a regular dental checkup, your Prairie Village, KS dentist will look out for several different concerns. Obviously, problems with dental decay will be something we look out for. What you should know is that our practice is also ready to help patients manage their periodontal health, a service that can be more important than you realize. Without proper periodontal care, you can become vulnerable to issues with your overall health. You also face a higher risk for tooth loss if a problem develops and is not managed. Dr. Browne can determine if you have issues with gingivitis in the course of a routine review, and if necessary recommend an ultrasonic scaling to fight bacteria.
Gingivitis Is One Of The Issues We Can Warn You About During Your Exam
Why should you make your periodontal health a priority? If you are not paying attention to the health of your gums, you can experience potentially serious problems over time. Those problems include a higher risk for tooth loss, which can cause significant trouble for your oral health and appearance. Another issue is that poor periodontal health can cause difficulties when you try to manage your general health, as it can interfere with your management of other conditions.
While advanced gum disease can be a difficult issue to control, gingivitis is a problem we can reverse. By performing an ultrasonic scaling instead of a routine teeth cleaning, we can address bacteria buildup beneath your gum line to stop an infection from progressing.
Performing An Ultrasonic Scaling To Fight Periodontal Problems
Ultrasonic scalings differ from regular teeth cleanings performed at your routine dental exams. What separates these two approaches is that your ultrasonic scaling removes bacteria from beneath your gum line to stop an active infection from worsening. We use an ultrasonic tool to make the removal of bacteria from these spaces more comfortable for you. After the unwelcome microbes are cleared away, your tissues can heal, which put a stop to the threat to your well-being.
Other Benefits To Consistent Preventive Care
By scheduling and attending regular preventive appointments, you enjoy an important line of defense against many different oral health issues. Regular exams lead to the discovery and treatment of problems like gum disease, tooth decay, and issues with your jaw movement that can lead to chronic pain. Your regular teeth cleanings help by removing the tartar and plaque buildup that make you more susceptible to future problems.
Dr. Browne Can Help You Deal With Gingivitis During A Checkup!
Dr. Browne is ready to help people in and around the Prairie Village community maintain healthy smiles! As part of our commitment to preventing problems, we can identify and address trouble with your periodontal health before complications occur. To find out more, please contact our Prairie Village, KS dental office today at 913-901-8585.