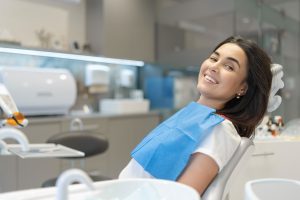 For someone who struggles with dental anxiety, even a routine dental exam can be stressful. This is a real issue that interferes with many people's access to quality oral health care. If you are staying away from the dentist's office because of your anxieties around treatment, you can have a more difficult time protecting yourself against problems like tooth decay and gum disease. Because of this, you make yourself more likely to need restorative dental work to address problems that develop. At our Prairie Village, KS dentist's office, we are ready to help anxious patients feel more at ease in the dentist's office. Because we are able to offer dental sedation, we can help even those patients who struggle with routine appointments.
Does Dental Anxiety Affect Your Life?
If fears around dental visits make oral health care less accessible, your smile can be more vulnerable to problems. Without regular checkups, you will not have opportunities to have tartar deposits removed from your teeth. When that removal does not occur, it increases your risk for cavities and gingivitis. If you let your anxieties keep you out of the office even as you struggle with a sensitive or aching tooth, you can give an infection time to spread and worsen. What that means if that you are more likely to need advanced restorative treatment like a root canal or tooth extraction!
Using Dental Sedation To Help You Stay Calm During Treatment
Dental sedation is used to help patients feel comfortable during longer and more involved procedures, and those who struggle with dental anxiety. It can also be relied on to help those who have difficulties with dental anxiety. Patients have access to oral sedation as well as nitrous oxide. With nitrous oxide, we are able to keep you calm by continuously administering a gas that allows you to remain conscious but at ease. When the gas is no longer administered, its effects can wear away quickly enough to make driving home safe. Oral sedation can provide a stronger effect, but those effects can linger, making it necessary for you to arrange a ride to and from your appointment.
The Importance Of Preventive Dental Care
When you have access to dental care on a consistent basis, you will be able to stay informed about your oral health and have problems caught and treated early. That early detection can ensure that a cavity only requires a dental filling and not a more involved procedure. The teeth cleanings that you enjoy will help you avoid decay entirely, and also keep your smile free of problems with gum disease.
Talk To Your Prairie Village, KS Dentist's Office About Dental Sedation
At our dentist's office, patients can count on Dr. Browne to provide care in a friendly and welcoming atmosphere. To help those who struggle with dental anxiety, as well as those who might feel uneasy about a particular procedure, we do provide sedation to make your time in the dentist's chair easier. To find out more about our practice and services, contact our Prairie Village, KS dental office today at 913-901-8585.