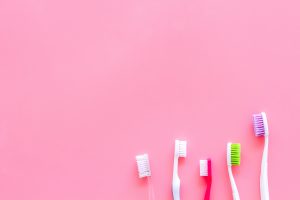 If you brush twice a day, and you generally feel confident in the appearance of your teeth, you may feel that no changes to your routine are required. With that said, many patients have walked into their dentist's office confident in their oral health, then discovered in the course of their oral health exam that they needed treatment for a cavity. By evaluating your current routine before a problem is found, you can catch any issues that are putting you at risk for poor dental health. Our Prairie Village, KS dentist's office is also available to talk with you about your current habits, so we can identify shortcomings and help you develop a more effective approach to caring for your teeth! One thing to note is that even with good brushing habits in place, you should take care to floss each day, as brushing alone can make it difficult to clean between your teeth.
Have You Experienced Recent Oral Health Troubles?
If you have recently received a dental filling or dental crown for a cavity, or if your dentist recommended an ultrasonic scaling at your last appointment to address gingivitis, you may be aware that your approach to dental care could use some improvement. People often start to reconsider their current habits when they know something is wrong. If you wish to avoid a situation where your dentist has to perform work on a tooth, improving your routine now can be a good idea.
Common Mistakes People Mistake While Brushing
If you want to brush effectively, you need to make sure you are cleaning every portion of every tooth. This process can take more time than you currently commit – you should spend at least two minutes trying to remove plaque and food particles from every space of your smile. You should also commit to brushing as consistently as possible. If you believe your routine is effective, but you sometimes skip brushing because you are late to work or just too tired to keep your eyes open, you make tartar formation more likely. Other mistakes people make include:
Using the same brush for too long, and letting the bristles fray
Not using an ADA-approved toothpaste
Brushing too forcefully and creating friction that weakens their enamel
Remember That Flossing Is Also Important
Even if you are brushing thoroughly, you can fail to effectively clean between your teeth. By flossing each day, you can remove food particles and bacteria that are present in these tight gaps, keeping you better defended against different oral health issues!
Talk To Your Prairie Village, KS Dentist's Office About Effective Smile Care
At our Prairie Village, KS dentist's office, our patients can look forward to quality care whenever they come to us for a routine appointment. We are also here to help in times when restorative treatments are needed. To find out more about our services, please call Dr. Browne's Prairie Village practice at 913-901-8585.