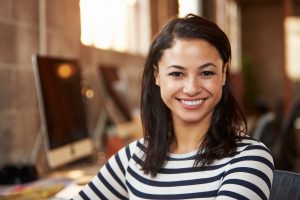 For the sake of your smile, and your overall well-being, you should be interested in protecting your gums against infection. When gingivitis develops, the bacteria that gather beneath your gums can create embarrassing issues with bad breath, cause bleeding and sensitivity, and even affect your gum line. If your condition worsens, it can become difficult to manage the problems affecting your gums, and you face threats like tooth loss, and even potential problems with heart disease and high blood pressure! At our Prairie Village, KS dental office, we can perform a special cleaning to fight the bacteria that cause gingivitis. An ultrasonic scaling allows us to safely break up and remove bacteria buildup under your gums, and help you avoid future issues with infection.
How Can You Tell If You Have An Issue With Gingivitis?
Your dentist can perform a check to see if you have problems with your gums during a routine dental exam. In between checkups, you can pay attention to your periodontal health by looking out for signs of trouble like swelling or redness. You can also experience a sensitivity to bleeding while you brush and floss. Patients with gingivitis also have to worry about their breath, as halitosis is another problem that can be linked to this condition.
Scheduling Your Ultrasonic Scaling
An ultrasonic scaling can protect you against the threat of gingivitis, or help you restore the health of your gums if it is already a concern for you. This procedure uses an ultrasonic tool to help clear away the bacteria that are present on your teeth below your gum line. Removing these harmful agents can stop your infection, and allow your gums to return to their healthy state. This procedure is more involved than the standard teeth cleaning, and it can require more time to perform.
What Can Happen If You Ignore Signs Of Periodontal Health Issues?
If you are not keeping up with regular dental exams, and ignoring the signs of gingivitis, your infection could worsen. Periodontitis is the term used for advanced periodontal infection. When patients suffer this condition, it can become a permanent concern. If it is not managed, you can experience tooth loss, and you may have a harder time managing your general health due to interference from the bacteria gathering beneath your gums.
Count On Dr. Browne To Help You Avoid Issues With Gingivitis
Dr. Browne is ready to help patients fight the effects of gingivitis! An ultrasonic scaling can remove unwelcome bacteria, and restore the condition of your smile before you experience worsening effects from your infection. We are also ready to help you preserve your dental health through regular exams and cleanings, and by treating problems that affect your teeth. To learn more or to schedule a visit with Dr. Browne, contact our office today at (913) 901-8585.