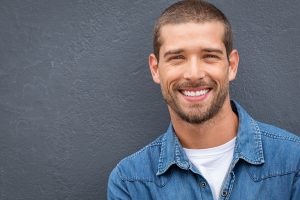 When you picked up that teeth whitening product from your local grocery store or pharmacy, you may have had a vision of what you wanted to see after treatment, but ultimately felt let down by your results. The products that are available over the counter to help people brighten their smiles can help with surface stains on teeth, but they can have limited value beyond this. If you want to see more significant changes, our Prairie Village, KS dental office can help! We can provide you with a professional whitening kit that includes more potent bleaching agents. Through daily applications of this substance, you can make your teeth noticeably brighter, and more attractive.
The Benefits Of Choosing A Professional Whitening Kit
Simply put, the whitening agents that your dentist can give you are able to do more than the kind of whitening agents that are sold over the counter. By meeting with your dentist, and talking about your goals for teeth whitening, you can gain access to a product that is more capable of delivering the results you really want to see. Your kit also includes whitening trays that are custom-made, so they provide an ideal fit. In addition to making your whitening experience more comfortable, these trays can make it easier to apply whitening agents evenly.
What To Expect During Your Treatment
Typically, a person who undergoes professional teeth whitening treatment can have their results at some point between ten and fourteen days. Each day, you should give yourself time to apply your provided whitening agents for the recommended amount of time. The product offered by your dentist is able to remove those stains that have built up on the surface of teeth, but they can also help you by oxidizing your tooth structure beneath your enamel. This leads to the kind of remarkable changes that make people interested in cosmetic work!
Our Cosmetic Services Help Patients See Great Smile Improvements
Through the right cosmetic dental procedure, your dentist can help you start showing off your ideal smile. While people are often concerned about the color of their teeth, whitening treatments are not always the best option for them. You may learn that your discoloration stems from problems with internal tooth issues, making tooth bonding or porcelain veneers more effective at improving your appearance. Bonding and veneers offer additional benefits, as they can help you improve misshapen teeth, or issues with spacing and size.
Talk To Dr. Browne About Making Your Teeth Whiter!
At our Prairie Village, KS dental practice, patients who want to make their teeth whiter can look forward to great results from a whitening kit provided by Dr. Browne! To learn more, or to make your appointment, contact our office today at (913) 901-8585.