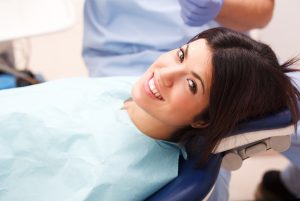 Cavity troubles are frustrating, but your Prairie Village, KS dentist can make the experience more comfortable by offering modern care in a welcoming environment. You can even receive extra support through dental sedation, which helps people feeling anxiety feel better about having work done. Thanks to the quality dental restorations provided at our practice, patients can feel better after treatment, too! We use dental fillings made from a special composite resin material. By selecting this material over metal, your dentist can provide you with a restoration that closely resembles your enamel, limiting the effect the filling has on the way you look. This material is also able to bond with your tooth structure, leading to extra support.
How Does A Dental Filling Fit Into A Cavity Treatment?
Dental fillings are used in some cavity treatments, but this is not the case in every instance. What makes a filling appropriate or inappropriate? Any time you need work done to address a cavity, your dentist has to make sure your tooth has long-term protection. This means before recommending a filling, they have to be sure that the filling will be able to keep the tooth secure. If your cavity is larger, and damages more of your tooth structure, a dental crown could be required instead.
What Should You Know About Modern Dental Fillings?
Modern dental fillings are designed to protect a tooth from new infections, while avoiding detection. The resin material your dentist uses can match the color and look of your enamel, so that it is camouflaged by the material surrounding it. The resin bonds directly with your enamel, ensuring a firm hold. This prevents the problem of space forming between the filling and your tooth, a problem that can occur with metal fillings over time. These spaces can allow bacteria to gather, which can create new issues for your oral health.
Are You Staying On Top Of Your Oral Health Needs?
If you want to make sure your cavity treatment occurs in time to make a dental filling appropriate, keep up with regular dental checkups. During these appointments, your dentist is looking carefully at your smile for early signs of decay that might need to be treated. By only scheduling dental visits when you feel something is wrong with your oral health, you can wind up in a situation where you need more involved treatment once a problem is discovered.
Dr. Browne Can Provide Modern Dental Fillings To Address Cavities
Dr. Browne is prepared to help people in and around Prairie Village, KS in need of dental care. Our practice provides a range of restorative, preventive, and cosmetic services to our patients. To learn more or to schedule a visit with Dr. Browne, contact our office today at (913) 901-8585.