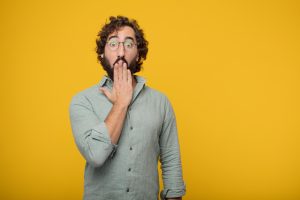 When you wake up feeling dental pain or sensitivity, you could be feeling the worrying effects of nighttime teeth grinding. If you keep ignoring the problem, the problem can become a serious one for your teeth. This problem, known as bruxism, can lead to significant wear and tear, and even chipped or cracked teeth! Your Prairie Village, KS dentist is able to help you protect your teeth while you sleep. In addition to keeping your smile safe from grinding, your dentist can talk to you about addressing TMJ dysfunction, which can lead to persistent discomfort.
You May Be Feeling The Effects Of Bruxism And TMJ Dysfunction
Bruxism and TMJ dysfunction can make your life more difficult, and put you in jeopardy of suffering serious dental harm. These problems are often experienced together, because each is capable of causing problems that lead to the other. Grinding your teeth at night can wear on you jaw joints, and lead to painful or limited dental function. If you are experiencing jaw problems because of TMJ dysfunction, you may begin grinding your teeth while you sleep.
While the causes can differ for people, your dentist can help you by providing relief for your teeth and your jaw joints. The right appliance can relax your joints, as well as the muscles that operate your jaw. An appliance worn at night can also keep your teeth from grinding while you sleep, so you no longer have to worry about dental injuries.
Let Your Dentist Know About Your Problems With Teeth Grinding
Talk to your dentist about teeth grinding when you notice something is wrong. If you wait, you could face serious consequences. You can generate significant force when you clench your jaw. As time passes, your teeth can start to look misshapen and unhealthy due to the effects of this friction. When enough force has been applied, you can actually cause chips or cracks that call for restorative dental work. Your dentist can supply you with a dental crown if a tooth has been badly damaged already.
How Can You Make Sure Problems Are Identified And Addressed? Schedule Regular Dental Exams
Your dentist is paying close attention to the health of your smile during every routine dental checkup. These examinations are focused on finding more than just evidence of tooth decay, or gum disease. A problem like bruxism can be found out and treated before the situation becomes worse. Your dentist can also look for potentially serious problems during a check for signs of oral cancer.
Talk To Dr. Browne About Your Teeth Grinding Problems
Dr. Browne is ready to help people who grind their teeth! Our practice can offer a special oral appliance that can keep teeth safe during the night. We can also offer treatment for TMJ dysfunction, which can cause frequent discomfort. We are proud to serve the Prairie Village, KS community – to learn more or to schedule a visit with Dr. Browne, contact our office today at (913) 901-8585.