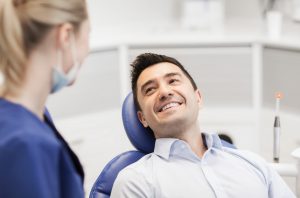 Your Prairie Village, KS dentist is committed to making sure any restorative dental treatment you receive will return your tooth to good condition. Thanks to the modern materials used to construct restorations, your treatment can also have a positive effect on your appearance. While the quality of care you receive is obviously important, there is another factor worth considering. It is important to also focus on your comfort during and after a procedure. In addition to providing anesthetic during dental work, your dentist can also provide dental sedation to help you feel at ease in the dentist's chair.
Helping Patients Remain Comfortable During A Dental Treatment
When the matter of patient comfort is brought up, people sometimes assume this is only in reference to physical comfort. What you should know is that attention is also given to your potential anxiety over a procedure. You can receive dental sedation in addition to anesthetic, which can put you in a relaxed state while you undergo a procedure. You can discuss your options for sedation with your dentist before an upcoming procedure, like a root canal treatment, which might put you in a state of concern.
OraVerse Can Make You More Comfortable After Your Dental Visit
How you feel after your time in the dentist's chair can be affected by how long you spend with frustrating numbness after anesthetic. OraVerse is used by our practice to help your mouth area recover from this numb feeling in less time. You can continue to avoid discomfort in your tooth, but this can put a stop to problems like slurring speech, or an inability to fully feel your face after your visit.
Avoiding The Dentist's Office Can Create Problems For Your Smile
Dental anxiety is a real problem for some individuals, and it can interfere with their ability to seek out important smile care. If you hesitate to even attend dental exams because of your unease, you can actually put yourself at a higher risk for the kind of problems that will require dental work. Discussing your options for dental sedation, and your general feelings of discomfort, can allow you and your dentist to plan a patient experience that recognizes your anxiety, and takes care to accommodate.
Talk To Dr. Browne About Enjoying A More Comfortable Dental Care Experience
Dr. Browne is ready to help individuals in and around the Prairie Village, KS area enjoy terrific smile care. Our practice offers a modern approach to anesthetic, and we can provide the appropriate sedation for patients who feel uneasy about a procedure. If you need to arrange dental work, or if you are interested in setting up a general exam, let us know! To schedule a visit with Dr. Browne, contact our office today at (913) 901-8585.