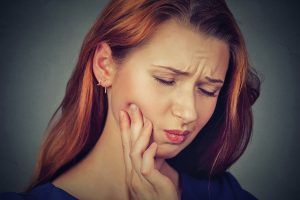 The persistent pains you experience during routine dental functions can serve as a warning about the state of your oral health. If you have to change how you bite and chew because you want to avoid a sensitive tooth, the problem you are trying to ignore could be connected to tooth decay. If the problem continues to go untreated, matters can worsen, and you may be in need of serious restorative dental work. If your problems are related to pains in your jaw, or if they include a limited ability to move your jaw, TMJ dysfunction could be affecting your life. Treating this issue can also relieve ongoing aches in your face, neck, and head. Your Prairie Village, KS dentist's office is ready to help you if you have been ignoring signs of oral health trouble. Our practice is also ready to see patients who find themselves in need of emergency dental work.
What Should I Do If A Toothache Is Interfering With My Dental Function?
If you are afraid to place biting or chewing pressure on a tooth because of pain, you should know that the pain you are ignoring could be warning you about an infection. A tooth infection that develops in your pulp can grow progressively worse, and if too much time passes without care the only solution left can be a tooth extraction. Your dentist can work with you to provide the most conservative treatment option capable of restoring your oral health.
Your Persistent Jaw Pain Could Be Connected To TMJ Dysfunction
If you continue to feel pain in your jaw while you eat, or speak, the problem could be connected to TMJ dysfunction. A special oral appliance can help you relieve this discomfort, as well as any related issues that cause you to suffer headaches, or discomfort in your face and neck.
Talk To Dr. Browne About Problems With Pain When You Bite And Chew
If you need treatment for a problem connected to dental pain, Robert M Browne, DDS is ready to help! Our practice welcomes people in and around Prairie Village, KS who want to make sure they keep their smile in the best possible health. To learn more or to schedule a visit with Dr. Browne, contact our office today at (913) 901-8585.