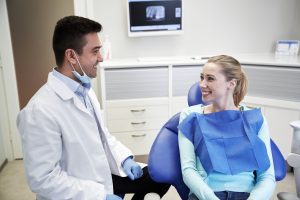 If you notice that your gums tend to bleed more easily, or appear swollen, you could have a problem with gum disease. These symptoms, along with chronic bad breath, should grab your attention. When your Prairie Village, KS dentist is made aware of possible periodontal troubles, you can be treated with an ultrasonic scaling. This can help you address the matter before there are complications you have to worry about. What can happen if you ignore signs of trouble? A periodontal infection can worsen, and it can lead to your condition becoming harder to treat. One complication from advanced gum disease is tooth loss – in fact, serious gum disease is the leading cause of tooth loss in adults!
A Deep Clean Provided By An Ultrasonic Scaling Can Help You Address Periodontal Health Issues
An ultrasonic scaling provides a careful, and thorough, deep cleaning of your teeth. This procedure is used to target oral bacteria that have made their way below your gum line, and caused an infection. This type of cleaning is not needed during a routine dental exam when you have healthy periodontal tissues. With that said, it provides an important defense against periodontal troubles if you show signs of being in poor gum health.
Taking Steps To Protect Your Smile From Different Oral Health Threats
Your dentist can take steps to protect your smile from threats during routine care, but you should also be taking care to address threats on your own. Each day, you should take time to brush at least twice, and floss your teeth. Both of these actions are important, and you need to make sure you do them well. If you fail to move your floss vertically, or let hard to reach areas go untreated when you brush, you can find yourself experiencing dental troubles.
Dr. Browne Can Help You Deal With Gum Disease
Robert M Browne, DDS can support your oral health care by providing periodontal treatment when it is called for. Our practice is proud to protect the smiles of families in and around Prairie Village, KS, and we look forward to helping you! To learn more or to schedule a visit with Dr. Browne, contact our office today at (913) 901-8585.