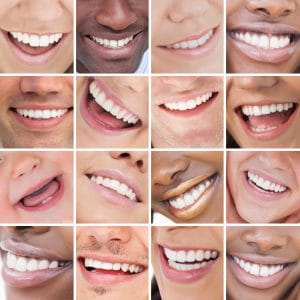 What makes a super smile? This is a seemingly simple question, with lots of potential answers. Our smiles are as individual as we are, and there are lots of right opinions when it comes to what makes each one great. For the sake of simplicity, we've divided super smile traits into three categories. Each one is important, and your dentist in Prairie Village, KS, is the person to turn to, to make sure you are pleased with your smile's performance in all three areas.
Point #1: Is Your Smile Healthy?
When dentists talk about a healthy smile, they are thinking of more than just the appearance of the teeth. A healthy smile means the teeth are cleaned of plaque and tartar, and any cavities that may have occurred have been addressed with tooth colored fillings. The gums of a healthy smile are pink, and firm. They adhere tightly to the teeth, protecting teeth roots from bacteria and infection. At every checkup and cleaning, your dentist will also check for oral cancer.
Point #2: Is Your Smile Functional?
A super smile needs to perform well. That means the teeth align properly, or are moved into proper position with the help of a system such as MTM Clear Aligners (for mild to moderate teeth movement) or perhaps traditional braces, when more substantial movement is needed. Healthy and functional temporomandibular joint move smoothly and quietly, without pain. If your TMJs are causing pain, your dentist has methods that may help you find relief.
Point #3: Are You Pleased with The Look of Your Smile?
Health and functionality are important, but being pleased with the look of your smile is also a key point. Cosmetic services can make a surface change, such as the smile boost of teeth whitening. For smiles in need of more extensive help, or when you are not sure what would help, a consultation for cosmetic dental services can bring your smile goals within reach.
We Can Work With You To Obtain Your Best Smile
We are your partner in helping you have a smile that is healthy, functional, and gives you pleasure each time you look in the mirror or interact with someone else. Learn more by scheduling a visit in Prairie Village, KS by calling Robert M Browne, DDS at (913) 901-8585.