MTM® Clear Aligners, Instead of Braces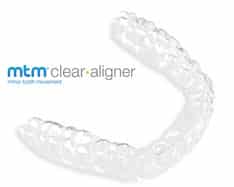 Straightening a crooked smile doesn't always require a full set of orthodontic braces. In many cases, the alignment is merely cosmetic, and can be improved with a much less invasive cosmetic procedure. MTM®, or Minor Tooth Movement, is a system of clear acrylic aligners designed to correct mild to moderate cases of tooth misalignment.
MTM focuses on the esthetic aspects of your smile, and can create a straighter, more symmetrical, and more appealing smile in less time than braces and other clear aligner systems.
The Benefits of MTM® Aligners
Because the aligners are crafted from clear acrylic, they remain virtually invisible as you wear them throughout the day.
Unlike braces, you can remove your aligners to clean them, and to brush and floss your teeth. You can also remove the aligners to eat so you don't have to avoid certain foods that could get stuck in them.
By focusing mainly on your smile's cosmetic appearance, MTM® aligners can often straighten teeth in as little as six months (compared to the two years or more that orthodontic braces require).
Learn more about the common cases MTM Aligners can treat!
See if MTM® Aligers Are Right for You
You can enjoy a straighter smile without the typical hassle of braces! To find out if you qualify for MTM® aligners, schedule an appointment by calling Dr. Browne's dental office in Prairie Village, KS, today at (913) 901-8585. We also proudly serve patients from Overland Park, Leawood, Mission Hills, Lenxa, Kansas City, Olathe, and all surrounding communities.