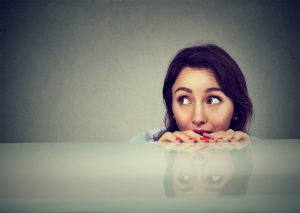 There are some reasons you're probably hiding your broken tooth from us. It might have something to do with the way you feel emotionally (maybe you don't want to admit that you broke your tooth because it's sort of your fault). Maybe you don't really love scheduling dental care, so you are trying to avoid it but you know that you need help. Whatever the detail, remember you are more than welcome and invited to see us! As for what may be holding you back (and what holds many patients back), let's explore!
#1: You're Embarrassed About How It Happened
Maybe you were doing something you shouldn't have been doing (like trying to open up a container with your teeth). Maybe you did something embarrassing like trip and fall. Whatever the case, we remind you that these things happen. Sometimes, you do everything right by your smile. Other times, you get a bit clumsy, you don't see something in your way, or you just decide to do something "this one time" and it ends up having consequences. Don't worry about this part. Just come in, let us check out your broken tooth, and let us fix it. You'll only be more upset about the whole thing if you wait too long and then your tooth concern becomes even worse and more uncomfortable!
#2: You've Waited A Long Time
Perhaps you do wait a long time because you really don't want to come in with your broken tooth. This is okay. Sometimes, things like financial worries, dental anxiety, or embarrassment get in the way. While we always suggest that you come in immediately, that doesn't mean you should stay away if you've procrastinated. Call us. Talk with us about the situation. Recognize how nice our team is and that we are worried about your tooth as it is right now. We will see you and repair the damage, so you can finally get over this trauma and move on with a healthy smile!
#3: You Don't Know Anything About Our Care
You might not know what to expect when you have a broken tooth, so you're a little too worried to come in. What you can expect is one particular thing: A comfortable, streamlined plan to save your oral health and get your smile back to its full structure. This could include a beautiful crown. It might include tooth removal and an implant. In any case, all will be well!
Treat Your Broken Tooth With Our Team's Help
See us for the restorative care you need in order to repair your broken tooth and, as a result, your smile health! Learn more by scheduling a visit in Prairie Village, KS by calling Robert M Browne, DDS at (913) 901-8585.