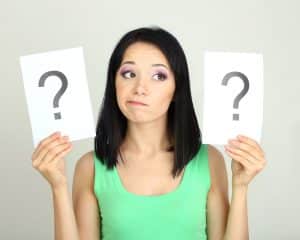 When you come in for a visit, do you find yourself reflecting on the way it felt in school (when you were a little kid) to raise your hand and ask a question? If your experience with this was one fraught with hesitation and shyness, we understand if you find yourself dealing with a very similar sensation during your appointments. However, we strongly encourage you to shake off any misgivings you have about bringing up your dental care questions with us. Instead, feel free to speak openly and to ask whatever it is you need answered! Let's explore this topic a bit further.
Common Questions We Receive
Remember that we are asked a lot of dental care questions every single day. So, if you feel like the only highly inquisitive patient out there, think again. As an example, we share with you some very common types of questions we receive consistently:
Is my brushing okay?
How can I floss better?
What type of cosmetic treatment do I need?
How long will my teeth last?
A Helpful Suggestion
Ask questions along the way if you don't know what we're talking about or if you need a little bit more information. As you know, we practice dentistry all day long (and you only receive it a couple times a year). If we're leaving out details you don't yet know, please feel free to let us know. Want to know more about your oral health, a treatment, or otherwise? Tell us! We are always happy to elaborate.
We also suggest you consider compiling a list of questions that pop into your mind while you're at home. You can bring them with you to your next dental care visit, so we can set a little time aside to address them.
Receive dental care in Prairie Village, KS with Robert M Browne, DDS by calling (913) 901-8585 to schedule your visit.