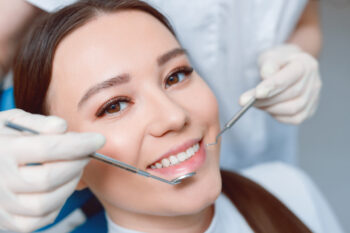 The new year is a smart time to think about what actions you can take to help you remain healthy and in good spirits. Part of your overall commitment to health should be a commitment to protecting your smile. Fortunately, you are not alone in this effort, as you can depend on the services of your Prairie Village, KS dentist for support! We can provide important ongoing preventive services that help you stay safe from issues like gum disease and tooth decay. These visits provide useful feedback, but they do more than just let you know more about the current state of your smile. Every appointment also includes a thorough teeth cleaning that will remove tartar and plaque in order to lower your risk for new threats.
Want To Maintain A Lovely Smile? Keep Up With General Dental Care!
Keeping consistent with smile care on a daily basis certainly helps you. What you do to both clean your teeth and limit your exposure to products that are acidic and/or high in sugar will control your risk for decay and generally help you maintain your well-being. What you should keep in mind is that general dental visits are important even when you put time and effort into protecting yourself with the right daily behaviors. These reviews and cleanings provide an important degree of protection along with feedback that keeps you truly informed about the condition of your smile.
Booking Your Preventive Oral Health Exams For 2023
You should book dental checkups on a semiannual basis, which means you should visit an oral health professional at least two times in 2023. In doing so, you ensure that you are staying informed about the onset of threats like gingivitis and tooth decay. You also enjoy consistent protection against the buildup of tartar, hardened concentrations of plaque that cannot be removed through brushing and flossing. Has it already been more than six months since you last underwent a review? Scheduling care as soon as possible can help you return to a beneficial routine.
Worried About Oral Health Issues? We Provide Smile-Friendly Solutions
What will happen if a problem is identified at your appointment. When trouble affects your tooth structure, it is often necessary to provide restorative dental work that will include the placement of a dental filing or dental crown. In these situations, we can take care to provide the support that you need while also taking care of your appearance. This is accomplished with restorations that offer functional protection along with lifelike appearances; both fillings and crowns can be made with materials that actually imitate your enamel!
Talk To Your Prairie Village, KS Dentist About Booking Your Next Visits!
To book your next dental checkup, please contact our Prairie Village, KS dentist's office today at 913-901-8585.