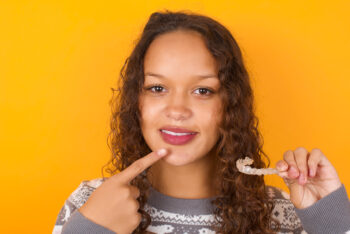 If you want to start the year making progress toward an important goal, your Prairie Village, KS dentist can help. Our practice provides different services that focus on making cosmetic smile improvements. One approach to care we can offer relies on a set of clear aligners to make changes by correcting the poor positioning of teeth. With this as an alternative solution to work with traditional braces, patients bothered by malocclusion but uneasy about treatment can see welcome results with a treatment that they feel more comfortable agreeing to. We are happy to discuss this work with you as well as other services that can positively impact how you look!
Is This A Good Time For You To Begin Orthodontic Work?
The start of the year can be a great time to think about how you can make changes in your life. If you feel unhappy with your smile because of poor spacing between teeth, you should know that there are ways to fix this issue that have less impact on your appearance and daily activities than traditional metal braces. Our practice can actually recommend that you use a set of Orthodontic Clear Aligners to make the changes you need to straighten your smile. In doing so, you can make the movements that you need while still maintaining a normal appearance. You will also be able to do so while limiting the overall changes to your routine, as your appliances will be easy to remove.
Enjoying The Benefits Of Discreet Care With Clear Aligners
Orthodontic Clear Aligners are tailored for the patients who receive them. That care in creating them can ensure that you undergo the right movements in order to close gaps and fix teeth that overlap. Their design also makes them discreet, meaning they will be difficult for others to see while you wear them. On a daily basis, you will wear the aligner that is designated for you based on your progress. It is important that you keep an appliance in place throughout each day, but remember that you can remove them to eat or clean your teeth, so you will not have to question how these activities will affect your routine.
Other Services That Take On Frustrating Smile Problems
There are more services that we offer which can take care of embarrassing cosmetic problems. The placement of porcelain veneers can be all that needs to take place for many people to see their desired changes. With their placement, we can resolve discoloration concerns, hide damages, and even correct some spacing problems. We offer Lumineers in addition to the traditional kind, which means this work can require less time and preparatory work than you anticipate!
Talk To Your Prairie Village, KS Dentist About Clear Aligner Treatment For 2023!
Through clear aligner treatment, you can begin 2023 with a plan in place to dramatically improve your smile! If you would like to find out more about this or any other service that we can offer, contact our Prairie Village, KS dentist's office today at 913-901-8585.