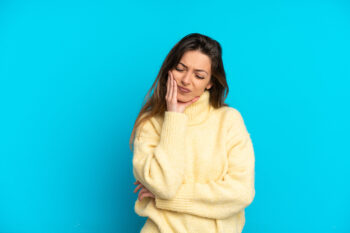 There are different warning signs of poor oral health you should keep watch for if you want to stay on top of your overall well-being. Not all of these problems directly target your teeth. The discomfort you feel in your face and jaw can also be linked to problems that should be discussed with your Prairie Village, KS dentist. Through an evaluation of this discomfort and your bite movement, we can determine if you should start TMJ therapy. Through treatment to address an issue with poor alignment or movement in your jaw, we can help you resolve problems that have left you experiencing recurring discomfort. In addition to correcting the pain itself, this can help you avoid difficulties with teeth grinding, which can lead to concerns over the health and appearance of your enamel.
Are You Growing Concerned About Recurring Jaw Pain?
The feelings of jaw pain, stiffness, and sensitivity that you feel can point to trouble with your jaw movement and function. These signs can point to an issue with poor alignment that has caused you to experience TMJ disorder. There are different reasons why this becomes a problem for some individuals. While the problem may be linked to difficulties with bite function that are related to concerns about unhealthy teeth, there are also issues with poor alignment, arthritis in the jaw joints, and a history of teeth grinding that can contribute to your difficulties.
Beginning Treatment To Address TMJ Disorder
We can begin your TMJ treatment after confirming that the issue is something that needs to be addressed. Through the use of a custom oral appliance worn at night, you can gently correct problems with poor jaw alignment. This leads to a gradual correction of the joints and muscles, leading to better movement and more comfort overall. We can also assess whether there are signs you need to wear a custom appliance to address bruxism.
Is Poor Dental Health Affecting Your Bite Function?
You may find it hard to keep up with a stable and comfortable bite if you have issues with your dental health. It can be hard to put pressure on a tooth that is affected by decay, physically damaged, or undersized. In these instances, we can look at treating the problem through restorative dental work. A custom dental crown can provide the protection that you need; if the tooth being treated is visible when you speak and smile, a crown made of lifelike porcelain or zirconia can be used.
Talk To Your Prairie Village, KS Dentist About Starting TMJ Treatment
Through TMJ treatment, we can improve your quality of life and alleviate persistent aches and pains! For more information, contact our Prairie Village, KS dentist's office today at 913-901-8585.