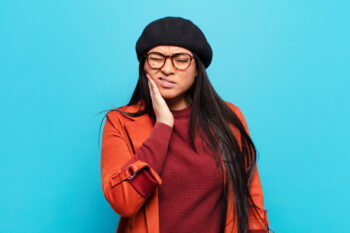 Tooth pain can be a nuisance, and it can also be a warning that something is seriously wrong with your oral health. The onset of pain can be concerning. As the problem continues, or if you experience worsening pain, you could be dealing with an infection that will continue to worsen and create concerns over your health. When you become alarmed by possible oral health trouble or simply have trouble focusing on anything beyond your discomfort, you can reach out to your Prairie Village, KS dentist. We provide timely emergency dentistry for patients who experience issues that are urgent due to their effect on your smile and/or oral health.
Tooth Pain Can Be A Warning That You Have A Serious Oral Health Issue
A brief period of dental discomfort can occur when you have a problem with a sinus infection, and you can have sensitivity issues due to matters like gum recession. With that said, prolonged or serious discomfort can point to more advanced oral health threats. In this context, you should look at what your dentist can do for you. The problem could be linked to an infection, something that will worsen in time if not treated, which is why you should prioritize care and try to make your appointment as soon as possible!
Scheduling Emergency Care To Address Discomfort And Concerns About Your Tooth
Our practice is here to help patients at times when they are concerned about their well-being. In the event your tooth is broken, loosened or lost, or experiencing pain associated with an infection or injury, we offer emergency dental services. This means you can see someone in a timely fashion and make sure that trouble is resolved before there are further complications. If your pain is due to a problem within the tooth structure, we can treat you via root canal therapy, which removes bacteria and infected tissues. After we do this, we can provide protection with a durable and lifelike dental crown.
What Will Your Smile Look Like After Your Tooth Is Treated?
A tooth that is restored after root canal therapy will have the protection of a crown, which surrounds the structure and absorbs bite pressure on its behalf. When the work being done affects one of your front teeth, we can recommend restorations that are made to match your natural enamel. These restorations are strong enough to provide bite support in addition to cosmetic benefits, so you can remain confident in your dental function as well as the way you look.
Your Prairie Village, KS Dentist About Booking Urgent Care For Tooth Pain
Tooth pain is not something that should be ignored, as putting off treatment means delaying care for a potentially serious problem. If you would like to find out more about how we can help you take care of your smile when this or another problem points to a need for emergency services, please contact our Prairie Village, KS dentist's office today at 913-901-8585.