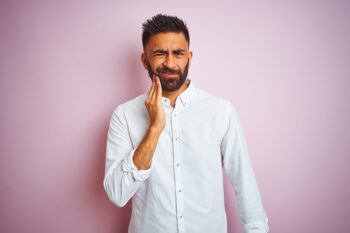 If you want to see your dentist for a routine appointment, you can plan out your visit in advance. In fact, you can set up your next appointment while you are in the office for preventive services. However, there are times when patients find themselves in need of help on short notice. One reason for this is because they are experiencing a worrying degree of dental discomfort. In this situation, you can reach out and let our Prairie Village, KS dentist's office know that you require emergency oral health services! Our offer of emergency dental care can help you avoid difficulties with oral health complications, and it can still ensure that your smile is not impacted negatively from treatment.
Will I Have To Wait To Have Something Done About Dental Pain?
Waiting to deal with dental pain can be difficult simply because of the discomfort you are experiencing. With that said, the trouble with a delay is not just that you spend more time in pain; you could be missing out on treatment for a serious threat, one that makes you vulnerable to tooth loss. If this is the case, the trouble with your oral health can become more complicated and require more advanced care. You may even face a heightened risk for losing your tooth! One important benefit to having access to emergency dental services is that you are able to seek and enjoy care before this kind of issue has to be resolved.
Scheduling And Attending Your Emergency Dental Exam
Dr. Browne can see patients on short notice when they have difficulties with pain, tooth damage, and any other issue that can require prompt attention. During your emergency dental visit, an evaluation will occur to find an effective treatment that also minimizes the amount of work required. For some injuries, cosmetic dental work can prove effective. However, at times when there are concerns about infections or more significant trauma, restorative dental work can be required, and may even involve root canal therapy.
What Will My Tooth Look Like After Treatment?
Even after more advanced work to restore a tooth, your smile can be preserved. Our practice relies on cosmetic services as well as lifelike dental crowns to take care of teeth that are in poor condition. By doing so, we can maintain your appearance and also ensure that you are able to bite and chew food without discomfort, sensitivity, or awkward adjustments to protect your restoration.
Talk To Your Prairie Village, KS Dentist About Emergency Dental Care
Emergency dental care can help you avoid oral health complications, and it can put a stop to difficulties with pain that disrupt your quality of life. If you would like to find out more about how we can take care of you in a situation where your tooth is causing you discomfort, contact our Prairie Village, KS dentist's office today at 913-901-8585.