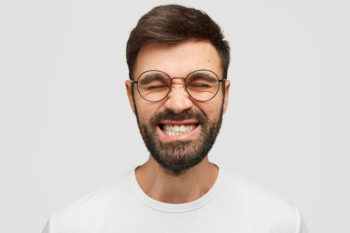 If you have not done something about your issues with nighttime teeth grinding, you are putting your smile in a vulnerable position. When you continue to grind and clench your jaw while you sleep, you create friction that can gradually wear down your enamel. Eventually, this can lead to cosmetic concerns, and it can even do damage that makes restorative treatment necessary! At our Prairie Village, KS dentist's office, we can intervene and take care of you so that persistent trouble with bruxism does not have lasting consequences. If damages have already occurred, we can discuss beneficial treatment options.
Continued Teeth Grinding Can Have Real Consequences For Your Smile
Problems with bruxism can worsen as time passes, which means you are more likely to have difficulties with jaw pain and stiffness due to the stress on your joints and muscles. This problem can also have real consequences for your smile and oral health, as pressure from grinding and clenching can damage your enamel. The good news is that your dentist is ready to help. You can make an appointment to discuss your worries over nightly teeth grinding, which can lead to treatment with a custom appliance. Dr. Browne also looks out for the warning signs of bruxism during routine dental exams, which means you can enjoy timely care before there are complications.
Using A Custom Appliance To Protect Your Enamel While You Rest
Your smile can remain safe during the night when you rely on a custom guard provided by your dentist. With this guard in place, your teeth remain apart as you sleep. In addition to keeping you safe from issues with friction and pressure caused by grinding and clenching, treatment helps alleviate stress on your jaw joints and muscles. We also provide appliance therapy for those who are looking into treatment for poor joint alignment, an issue referred to as TMJ disorder.
We Can Provide Cosmetic And Restorative Services To Address Wear And Tear
As we evaluate your smile, we can see if restorative or cosmetic dental work might be appropriate based on the condition of your enamel. Cosmetic services are more conservative, which means fewer changes are made to your tooth structure. With porcelain veneers or tooth bonding treatment, we can hide the harm that has been done by teeth grinding and clenching. If more significant harm is present, we can instead act by providing dental crowns to protect teeth that have been damaged and are not in good health.
Talk To Your Prairie Village, KS Dentist About Treating Bruxism
Through treatment for bruxism, we can help you maintain your smile and avoid issues with dental pain and sensitivity. If you would like to find out more or arrange treatment, please reach out to our Prairie Village, KS dentist's office at 913-901-8585.