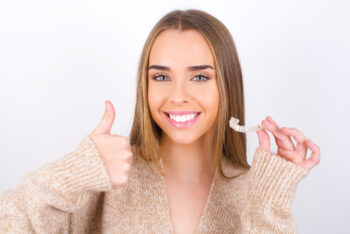 Once you express an interest in a dental treatment, you can learn about your options for care, and what the right approach can do for you. For people who are interested in straightening teeth that are poorly spaced and uneven, there are several orthodontic solutions, including the option to take on spacing difficulties with clear aligners. Our Prairie Village, KS dentist's office provides the option to have teeth adjusted with Orthodontic Clear Aligners. By choosing this path, you can take on your issues with the way you look discreetly, as your appliances will be difficult to see. Because they are easy to remove, they can be easy to work around when you need to eat or clean your teeth.
Choosing Orthodontic Clear Aligners Instead Of Metal Braces
While treatment with bracket-and-wire braces can be effective, and can even be necessary for people with more serious malocclusion problems, it is not right for everyone. There are many individuals who can benefit from opting for treatment with Orthodontic Clear Aligners. With these appliances, you can make gradual improvements to your appearance with a set of customized aligners that will move your teeth into better positions. At the end of your corrective work, you can feel excited to show off a straighter and more attractive smile, one that you can feel eager to share with the world!
When You Begin Treatment With Your Aligners
Your treatment will begin with a careful examination of your teeth and oral structures, which will give us the information that we need to provide a personalized treatment plan. Each one of the aligners that you receive will be designed to help you take a step closer to your completed treatment. All of them are made to avoid detection thanks to their clear design, and each will be easy for you to remove when you need to eat or clean your teeth.
What To Expect When You Finish Your Treatment With Aligners
At the conclusion of your adjustment, you can show off a smile that is more symmetrical and attractive, one that is not affected by problems with gaps or overlaps. In addition to this, you can enjoy additional benefits to orthodontic work for your oral health. Corrective work can be recommended as part of a plan to take on issues with TMJ disorder, as it can lead to better bite movement. It can also help you maintain your oral hygiene more easily, as you will not have to work around cleaning areas where your teeth overlap.
Talk To Your Prairie Village, KS Dentist About Using Clear Aligners
Through the use of clear aligners, you can take on problems with your smile that have left you self-conscious, and you can do so with a more discreet and comfortable treatment. If you would like to learn more, please reach out to our Prairie Village, KS dentist's office at 913-901-8585.