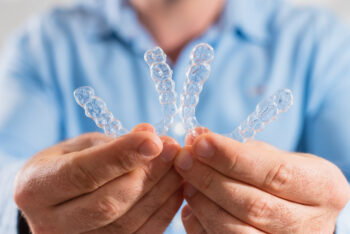 Are you ready to do something about the noticeable gaps and overlaps between your teeth? Malocclusion is a common source of embarrassment for many people, and it can also have a negative impact on your dental function and health. At our Prairie Village, KS dentist's office, we can recommend an appealing solution in the form of Orthodontic Clear Aligners. With these appliances, we can discreetly move teeth into better positions in order to improve your smile and oral health. The convenience of these appliances makes it easier for you to commit to a plan to straighten your teeth. While you should keep them in place for as much time as possible, you can easily remove them so that you can eat and clean your smile.
How Orthodontic Clear Aligners Improve Your Smile And Oral Health
As an alternative to metal braces, Orthodontic Clear Aligners can make corrective treatment for your smile more convenient, and it can also make your procedure more discreet. You will rely on a series of clear appliances that take care of your smile by gradually moving teeth into better positions. They are all removable, so throughout your adjustment you will not have to worry about treatment interfering with your daily routine, including eating and cleaning your smile.
Beginning Your Corrective Treatment
Before you begin adjusting your smile, your dentist will take care to closely evaluate your oral structures. The measurements and images we gather will let us know what adjustments need to be made, and they provide the necessary details to provide personalized aligners. Your corrective work will let you close gaps, move teeth that overlap, and generally make your smile more symmetrical and attractive.
What To Look Forward To When Your Procedure Ends
When you straighten your teeth, you can enjoy a welcome change in your confidence. After all, this corrective work can fix visible flaws and generally make your smile more symmetrical. What you also gain is a chance to improve your bite function, which can lead to fewer issues with jaw pain and stiffness, and can also resolve difficulties with wear and tear on certain teeth that are overused. You can also have an easier time fully cleaning your smile when you no longer have to work on cleaning teeth that overlap.
Talk To Your Prairie Village, KS Dentist About Orthodontic Clear Aligners
Through treatment with Orthodontic Clear Aligners, you can address problems with your smile without relying on conspicuous metal braces. This treatment can benefit your oral health as well as your appearance, leading to welcome changes. If you would like to find out more about how we can take care of you by offering this or another service, please reach out to our Prairie Village, KS dentist's office at 913-901-8585.