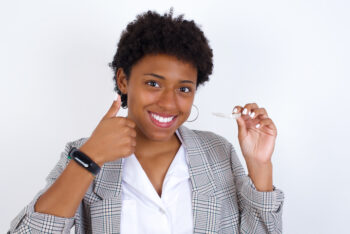 Should you commit to treatment with Orthodontic Clear Aligners before the start of the new year? Will these appliances make it more difficult for you to celebrate the holidays in the way you prefer? When it comes to orthodontic treatment, clear aligners can make the process of fixing gaps and other spacing issues more conservative, and easier to fit into your current daily routine. Their removable design allows you to take them off whenever they are in your way, and their clear appearance is capable of making it hard for people to notice that you have begun treatment. In other words, if you are ready to see your Prairie Village, KS dentist to start addressing malocclusion, they offer a convenient means of doing so even if you are gearing up to enjoy the holidays!
What Orthodontic Clear Aligners Can Do For Your Smile And Oral Health
With Orthodontic Clear Aligners, we can take on the different issues that stem from your smile being poorly aligned. These include both cosmetic issues and problems with your oral health. The cosmetic concerns can be difficult to miss. If you have unsightly gaps between teeth, or problems with overlapping teeth that look unattractive, you can be understandably eager to fix these issues and change your appearance. Through corrective work, we can address these problems and also give your smile an overall improvement by making it more symmetrical.
While the issue can affect people's oral health to different degrees, we should acknowledge that malocclusion can be an issue for your well-being. One example of this is when uneven teeth spacing make it harder for you to bite and chew without relying on an awkward or uneven motion. Not tending to this issue can lead to worrying stress on your joints as well as alignment problems that result in TMJ disorder. You also need to be concerned that teeth that overlap are more difficult to keep clean, which can make you more likely to experience problems with your oral health over time.
Will Clear Aligners Affect How I Enjoy The Holidays?
Because the holidays tend to be full of opportunities to enjoy tasty meals and celebrations with friends and family, you may worry that orthodontic treatment will create problems. You may be reluctant to start a procedure that can alter your smile, or one that can make it harder to enjoy certain foods. Fortunately, Orthodontic Clear Aligners help you avoid this issue. Because they are hard to see, these appliances can be worn without drawing unwanted attention.
Talk To Your Prairie Village, KS Dentist About Beginning Treatment With Orthodontic Clear Aligners
Because Orthodontic Clear Aligners are surprisingly easy to fit into your daily life, you can feel comfortable beginning your adjustment even before the holidays end! To find out more about hose these appliances can help you, please reach out to our Prairie Village, KS dentist's office at 913-901-8585.