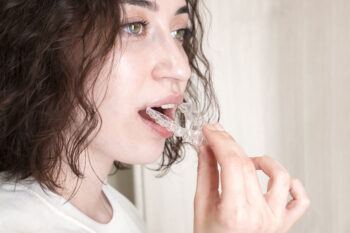 When you decide to take on problems with unevenly spaced teeth, you can find that there are more treatment options open to you than you anticipated. Some patients who assumed they would have to rely on metal braces can find instead that removable Orthodontic Clear Aligners are available to them. When you have access to these appliances, you can make the work of straightening uneven teeth an easier fit for your daily life, and you can still see the results that you are looking forward to! Our Prairie Village, KS dentist's office is happy to meet with you to discuss the benefits of this approach, and help you understand what you can gain from finally addressing problems with gaps and overlaps between teeth.
Enjoy A Discreet Alternative To Treatment With Traditional Metal Braces
While metal braces have proven to be an effective solution for many people who are bothered by malocclusion, it is not the only one that is available to you. If you are concerned about the impact of braces on your smile and daily life, the idea of wearing removable clear aligners can certainly be appealing. These aligners can make it easier to stick with your typical daily routine, and they can preserve your appearance. Dr. Browne can meet with you and talk to you about what to expect from the process of starting treatment, as well as what to expect when your smile is straightened.
What To Expect As You Begin Treatment
Before you can receive your Orthodontic Clear Aligners, we will take detailed measurements of your teeth and bite structure. The information that we gather helps us plan out your adjustment and provide appliances that are just the right shape and size for your corrective work. When you receive your set of clear aligners, you should wear each one for the recommended period of time, taking care to keep them in place throughout each day. They are removable, and can be taken out when you need to eat or clean your teeth. Thanks to their clear design, you can have little trouble wearing them even in professional and social environments.
What To Look Forward To When You Complete Your Corrective Work
When you complete orthodontic treatment, you can have a more attractive smile to show off, but you should know that there are also oral health benefits to look forward to after an adjustment. Your bite function can be better aligned, too, and that can lower your risk for TMJ problems. Another reason for treatment is that you can improve your oral hygiene efforts by straightening teeth that are difficult to fully clean due to the way they overlap or crowd one another.
Talk To Your Prairie Village, KS Dentist About The Benefits Of Orthodontic Aligners!
Through treatment with Orthodontic Clear Aligners, you can put a stop to problems that negatively affect your smile and oral health. If you would like to find out more, please reach out to our Prairie Village, KS dentist's office at 913-901-8585.