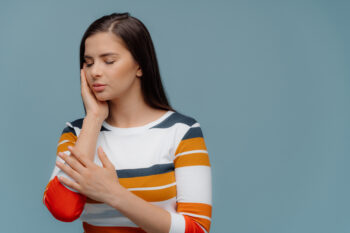 Our teeth are kept in place thanks to the support of our jawbone and surrounding soft tissues, which help keep the roots firmly in position. That stability is an important part of our overall bite support, which is why a tooth that feels even slightly loose can be a source of concern. If you are alarmed at the feeling of a loose tooth, either after an injury or at any other time you notice there is a problem, our Prairie Village, KS dentist's office can help you. When necessary, we can offer emergency dental services that provide our patients with treatment on short notice. During your visit, we will look into how we can treat the tooth to keep it safe and secure.
A Loose Tooth Can Leave You Understandably Concerned
A loose tooth can be upsetting and uncomfortable. If you leave the problem unaddressed, it can become even less secure, raising your risk for it falling our and being permanently lost! This is a distressing problem to have, but it can feel less vexing when you know that you have access to emergency dental services. During your appointment, we can provide a thorough evaluation to see what might be wrong with the tooth, and to see how we can take care of it.
We Can Provide Treatment On Short Notice
Emergency dental services can help patients facing many different concerns. At your appointment, we will look for the most conservative form of restorative dental work that can put problems behind you. If an injured tooth has internal problems in addition to being loosened, we can provide root canal therapy to preserve its health. To provide lasting support, we may need to provide a dental crown.
What Happens If I Lose My Tooth?
So what will happen if a tooth falls out before your appointment, or if there is simply not a way to safely secure it? While our goal is to keep your full smile intact, we are still prepared to help if you ultimately require prosthetic treatment. At your appointment, we can discuss the benefits of different options, such as the placement of a dental bridge or the use of a dental implant to hold a restoration.
Talk To Your Prairie Village, KS Dentist About A Tooth That Feels Loose
Through treatment for a tooth that feels less than secure, we can make sure your smile is protected and preserved. Because we offer emergency dental services, we can help under many circumstances where you might have fears of permanently losing a vulnerable tooth. If you would like to find out more about our urgent treatment options, or if you have question about our general care, please reach out to our Prairie Village, KS dentist's office at 913-901-8585.