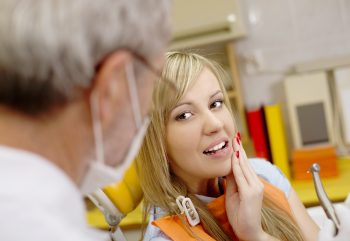 Tooth pain is difficult to ignore. It can become so frustrating that you can find it hard to focus on anything aside from the discomfort you feel. So what can you do to put a stop to this issue? At our Prairie Village, KS dentist's office, you can schedule urgent care to address this problem. Our office can work with you to see you as promptly as possible and determine what we can do for you to put an end to your dental pain. You can be happy to hear that a restorative procedure can preserve your appearance while also making sure that your tooth is healthy.
Dental Discomfort Can Make Treatment An Urgent Need
If you experience a significant amount of tooth pain, it can become hard to go about your typical day until you address it. This discomfort can be more than just a nuisance, as it can be a warning that you have an oral health issue that is growing severe. When the discomfort is linked to an infection, you could be vulnerable to a problem that leads to tooth loss! The good news is that your smile can be protected when you go in for the appropriate restorative dental work. To make sure the matter is addressed in time, you can contact us to arrange emergency dental services.
Arranging Emergency Dental Services
At your emergency dental appointment, we will evaluate you to determine what the source of your pain is, which can lead to the appropriate care. Before you arrive, an over the counter medication like aspirin can help you manage discomfort. You can also use an ice pack or cold compress to dull your pain. At your appointment, Dr. Browne will be able to tell you what procedure is required to put problems behind you. This kind of discomfort can signal that it is necessary for you to undergo root canal therapy to deal with a problem within the tooth structure.
Will You Be Able To Undergo Treatment Without Altering Your Smile?
When we provide a root canal to address active discomfort, we will need to follow this treatment with a dental crown. A custom crown provided at our office will match the appearance of your healthy enamel, which gives you the ability to restore your tooth and preserve your smile!
Talk To Your Prairie Village, KS Dentist About Our Urgent Dental Services
Our practice recognizes that people sometimes need urgent attention for dental troubles, particularly when that trouble is causing them discomfort. Dr. Browne works with patients who find themselves in need of emergency services, so you do not have to worry about the problem growing more severe before you receive treatment. Our use of lifelike restorations can even ensure that your care will not change your smile! If you would like to learn more about our practice and how we support our patients, call our Prairie Village, KS dentist's office at 913-901-8585.