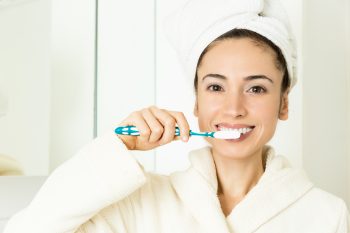 Will you need to make a change to your smile care routine after you undergo cavity treatment? If you feel as though your trouble with tooth decay had something to do with less effective daily habits, some changes can certainly be beneficial. However, you can find that traditional brushing and flossing efforts remain effective even if you have a permanent restoration that you need to protect. In fact, keeping up with good habits will help you support a filling or crown by keeping them safe against damage from oral bacteria and food deposits. Your Prairie Village, KS dentist is ready to help if you need work done to restore a cavity, and can also provide ongoing preventive support to help you protect your smile.
Your Restoration Will Protect Your Tooth After Cavity Treatment
A permanent dental filling or dental crown will be included in the work to fully restore your tooth during a cavity treatment. These restorations are strong enough to stay in place and provide protection for your smile for many years, even as they experience friction from biting and chewing. It will always be necessary for your tooth to have this support, as it will be vulnerable to damage or an infection without it. You can prolong the life of your filling or crown by sticking to a good oral hygiene routine, and by avoiding needless wear and tear.
Maintaining Good Habits After A Procedure Is Performed
A good oral hygiene routine is important if you have no cavity history as well as if you have several restorations in place already. With the right efforts, you will be able to control problems with bacteria buildup that affect your risk for future dental troubles. Brushing and flossing should be a daily occurrence, with brushing taking place at least twice per day. Remember to be as thorough as possible when you perform these tasks.
We Can Help You Avoid Another Cavity!
Dr. Browne is here to do more than just take care of your smile when something is wrong! Our office encourages patients to come in twice a year for regular dental exams. Whenever you see us for preventive care, we can help you avoid future difficulties in several ways. One is that your dentist closely checks your smile for any problems, including problems with restorations that may need to be replaced. We also provide thorough teeth cleanings that take care of accumulated plaque and tartar before they can cause new problems for your well-being.
Talk To Your Prairie Village, KS Dentist About Cavity Treatment
You can count on your filling or crown to keep your tooth safe for many years when you practice good oral hygiene habits. To learn how we can both address an active problem with dental decay and help protect your smile from future problems, call our Prairie Village, KS dentist's office at 913-901-8585.