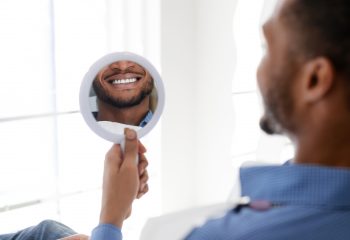 If you keep up with good oral hygiene habits and limit your sugar intake, you can have an easier time controlling your cavity risks. Your goal should be to always keep your smile out of trouble that can require restorative dental work. Unfortunately, cavities can prove difficult to avoid at some times – many people will have an issue with dental decay at least once in their lifetime. At our Prairie Village, KS dentist's office, Dr. Browne is ready to treat a problem with your tooth in a way that preserves your appearance. We provide fillings and crowns that closely imitate healthy tooth structure to remove your concerns about your appearance after a restorative procedure!
Why Cavities Call For Treatment From Your Dentist
While your daily routine can protect you from the formation of a cavity, brushing and flossing will not stop a cavity's growth after it forms. Unfortunately, a problem with tooth decay will only worsen when you have a cavity, and that can eventually lead to complications that cause pain and put you at risk for tooth loss! Fortunately, this is a problem that you can bring to your dentist's attention. With the right restorative dental procedure, we can make sure the threat to your smile is resolved without affecting the way you look.
Undergoing Treatment For Tooth Decay
Depending on the size of your cavity, your dentist will either use a dental filling or a dental crown to restore your tooth after an area affected by decay is removed. Dental fillings are a conservative treatment approach, one that will preserve the surrounding healthy structure while providing a permanent answer to problems with damage. When a dental crown is placed over a tooth, more preparatory work has to take place. This makes room for your larger restoration and ensures you have long-term support. In some cases, a tooth will receive root canal therapy as part of cavity treatment. This is only needed when decay is serious enough to cause an internal infection.
Will My Smile Look Different After Treatment Is Finished?
We can provide fillings and crowns that successfully imitate healthy tooth structure. In both cases, this means you can undergo work for decay without worrying that your appearance will be changed by treatment. In some cases, we may recommend the use of a metal crown, as this material can provide more support to your molars, which are both difficult for others to see and tasked with absorbing more demanding biting and chewing pressures.
Talk To Dr. Browne About Scheduling Cavity Treatment!
Dr. Browne is ready to help patients take care of their teeth when they experience issues with dental decay! To find out how we can help you, please contact our Prairie Village, KS dental office today at 913-901-8585.