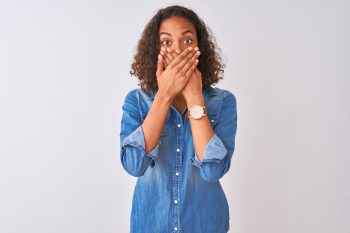 Your teeth are strong enough to break apart and break down an array of foods. The strength of our enamel is important to our ability to enjoy a varied, nutrient-rich diet, and to our ability to avoid dental problems. Unfortunately, problems with gradual wear and tear can start to affect both your appearance and oral health. One issue for some patients is the increased friction placed on their teeth due to bruxism, or habitual teeth grinding. Someone who regularly grinds or clenches their teeth during the night can see changes in their smile. In addition to causing general erosion of your enamel, this problem can lead to teeth becoming chipped and cracked! Our Prairie Village, KS dentist's office can help you address this issue, and we can also talk to you about restoring your smile.
Has A Problem With Nightly Teeth Grinding Affected Your Smile?
If you tend to grind or clench your teeth during the night while you sleep, you can experience trouble with wear and tear, pain in your face and jaw, and more. One concern is that the pressure you put on your teeth will start to harm your enamel. That can lead to smile problems as teeth become flat or misshapen. It can also cause chips or cracks to form that affect your oral health as well as the way you look.
Using A Custom Appliance To Protect Your Smile
Protecting your smile from bruxism is important. Without the right intervention, the problem will continue to hurt both your appearance and dental health. A custom oral appliance will help you by keeping your jaw apart and resting in a more comfortable position. We can also use oral appliance therapy to help those with TMJ disorder. Because TMJ problems and bruxism are often connected, you may want to speak with your dentist about how you can fully resolve difficulties that have left you in chronic pain as well as vulnerable to dental damage.
Discussing Cosmetic Dental Work To Restore Your Appearance
While treatment for bruxism will help you stop further damage to your smile, you can also have an interest in fixing problems with your smile that are already present. We can discuss cosmetic dental work with you to determine how you can regain confidence in the way you look. Tooth bonding and contouring treatment will carefully modify teeth so that they look healthier and more attractive. Because this service does not require the use of permanent restorations, it may be possible for us to have this work done in as little as one appointment!
Talk To Your Prairie Village, KS Dentist About Your Issues With Bruxism
Through treatment for bruxism, we can help patients who are bothered by enamel wear and tear and jaw pain. We can also discuss services that can restore your smile so that you no longer feel embarrassed by worn, damaged teeth. If you are ready to learn more, please call our Prairie Village, KS dentist's office at 913-901-8585.