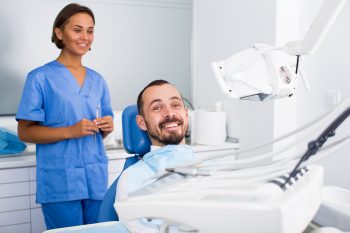 Keeping your gums healthy can make a bigger difference than you realize in how you maintain your overall health. Complications from gum disease can negatively affect your ability to manage your well-being, and can even make it more difficult for you to manage other active health concerns. You also have to worry about tooth loss, as periodontal problems are responsible for this more often than you may realize. Our Prairie Village, KS dentist's office is able to help patients manage their periodontal health when they visit us for routine care. If you show signs of gingivitis, we can help by providing an ultrasonic scaling to remove bacteria that are gathering on the roots of your teeth.
Are You Dealing With Gingivitis?
It is important that you take signs of gingivitis seriously. If your condition grows too serious, it can progress into a form that is difficult to manage, making gum disease a long-term difficulty. There are signs that you can look out for if you want to make sure that your smile is healthy. Problems with bleeding gums, swelling, changes in your tissue color, and gum line recession can be recognizable signs of trouble. While you should watch for these concerns, you should also be aware that your dentist can identify signs of trouble that you may miss.
We Can Recommend An Ultrasonic Scaling During Your Next Exam
For someone who shows symptoms of gingivitis, we can provide an ultrasonic scaling to remove harmful bacteria that are present below your gum line. This service uses an ultrasonic tool to more comfortably break apart bacteria buildup that can infect your tissues and interfere with your well-being. By doing this, we give your tissues the chance to recover and return to good health. For patients who are not showing signs of an infection, we can move forward with a traditional teeth cleaning during a routine visit. This will remove plaque and tartar at the base of teeth to stop a problem from forming.
Other Important Preventive Services We Provide
Regular teeth cleanings and evaluations play an important role in protecting your smile. As Dr. Browne evaluates you, he can watch for cavities as well as signs of TMJ disorder and bruxism, which can lead to worsening pain and dental damage when not addressed. We can also provide important early warnings about potentially serious problems like oral cancer, which can improve your chances for a successful treatment.
Talk To Your Prairie Village, KS Dentist About Ultrasonic Scaling
By providing an ultrasonic scaling at your next checkup, we can remove the harmful bacteria responsible for your periodontal problems. Doing this can provide important long-term protection, prevent complications, and help you maintain your overall health. To find out more about how we can help you, call our Prairie Village, KS dentist's office at 913-901-8585.