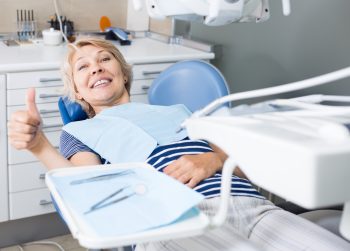 Some people have an easier time feeling comfortable in the dentist's chair than others. For a person with anxiety around treatment, even a routine visits can be difficult to arrange. If you have anxious feelings about oral health care that you require, your Prairie Village, KS dentist can help. Dr. Browne is able to provide sedation during a procedure. Because of this, you can remain in a relaxed state throughout your care, even if you typically feel uneasy with the idea of oral health treatment! Our use of dental restorations that imitate healthy enamel can help you remain comfortable with what comes after a treatment, too!
Do You Feel Anxious About Oral Health Services?
For some people, any kind of dental care can be difficult to arrange. If anxiety issues already make it hard for you to attend a routine exam, it can be especially difficult to commit to an office visit when you require restorative dental work. Our practice understands this, and we are prepared to help. With dental sedation, we can make your time in the dentist's chair easier. We offer different options for treatment, which means we can provide different degrees of relaxation.
Using Sedation To Make Your Restorative Treatment More Comfortable
Both nitrous oxide and oral sedatives are used at our practice to help patients lessen their anxiety over treatment. With both options, you can remain calm even if you normally struggle to sit comfortably and receive services. This support can be important, particularly when you need to do something about a cavity. Unfortunately, our teeth are not able to naturally resist or recover from cavities. If you put off treatment, that tooth's health will gradually deteriorate!
What To Look Forward To After Your Procedure
When you finish treatment to restore your smile, you can feel relieved to see that your appearance has not changed. We provide restorative dental services with fillings and crowns that imitate healthy enamel. What this means is that even if your procedure concerns a tooth that is visible when you smile, you will not have to worry about it changing your smile. Remember that with regular checkups, we can alert you to problems with decay before they require more than the placement of a filling.
Talk To Your Prairie Village, KS Dentist About Sedation We Can Provide During Dental Care
A visit with Dr. Browne can lead to important smile care. If you are someone who feels anxious about dental services, we can recommend sedation to make you feel more comfortable as you undergo work. Our practice is also here to support your smile through preventive services. If you want to find out more about us, or if you are ready to schedule a visit, please contact our Prairie Village, KS dental office today at 913-901-8585.