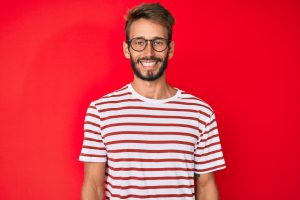 Teeth stains can be difficult to avoid, and hard to hide. As stains gradually build up on your teeth, you can lose confidence as your smile starts to look older, less healthy, and less attractive. Fortunately, there is something that you can do to fight stains and recover your bright, white smile! You can actually take home a professional whitening kit from your Prairie Village, KS dentist that is designed to produce meaningful improvements to the way you look. Your kit will include personalized trays as well as whitening agents that are more potent than those provided at your local grocery store or pharmacy. By following the recommended daily treatments, you can once again flash a bright, confident smile!
Are You Having A Hard Time Taking Care Of Your Teeth Stains?
Before seeing their dentist for help, many people will try an over the counter whitening product in the hopes it will do enough to make them comfortable with their smile again. While you can have some success with a store bought whitener, you may not see the results you were ready to show off. These products are limited in their ability to remove particles that have settled over time and changed the color of your enamel, so they can leave them behind even as they remove recently acquired stains. By picking up a professional whitening treatment, you can make more significant changes and feel better about the way you look!
Make Your Smile Brighter By Using A Customized Whitening Kit
With the whitening kit that your dentist provides you, it becomes possible for you to deal with deeper stains that have hurt the quality of your smile. Ten to fourteen days of daily treatment will help you gradually work through these stains, producing progressively whiter teeth. To make the application process easier, your kit will contain kits that have been custom-made to fit on your teeth.
Learn What Other Cosmetic Treatment Options Are Available To You
It may surprise you to learn that some people with discolored teeth are affected by something other than discoloration. Problems within the tooth structure can lead to visible blemishes that patients can be eager to address. While whitening treatment can be less effective for them, it may be possible for you to correct these issues with another cosmetic dental procedure. Treatment with porcelain veneers can help, and so can a tooth bonding and contouring procedure. When these services are performed, they also help correct problems with the shape, size, and even the spacing of your teeth!
Talk To Your Prairie Village, KS Dentist About Taking Home A Whitening Kit!
Dr. Browne is prepared to help those patients who feel self-conscious because of their smile color. To learn more about the benefits of our cosmetic services, please reach out to our Prairie Village, KS dental office at 913-901-8585.