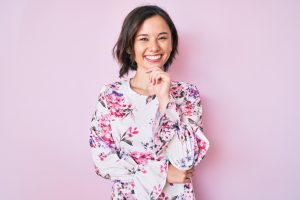 It might not surprise you to hear that cosmetic dental work can make a person more confident in your smile. However, you may not realize just how many changes your Prairie Village, KS dentist can make to the way you look through treatment. With just one procedure, you can see changes in the color, shape, and size of your teeth, and you can fix issues that currently make your smile seem awkward or asymmetrical. You can also find that with the right approach taken, you may be able to see all of your desired improvements with just a single procedure!

Make Positive Changes To The Shape And Size Of Teeth
Many people are unhappy with their smile because they have teeth that are the wrong shape or size. This can make you feel awkward about your appearance, or it can draw unwanted attention to certain issues that stand out. Through the use of porcelain veneers or tooth bonding services, we can correct these issues and positively change your smile. If problems with bulky or uneven gum tissues throw off your smile or make teeth look too small, we can recommend gum contouring treatment.
Deal With Embarrassing Teeth Stains
Teeth stains are a common problem, as it can prove difficult to completely avoid products that cause stains to form on your teeth. If you are unhappy with your appearance because of these problems, we can recommend a professional whitening treatment. The whitening agents that your dentist provides are capable of removing stains that have settled in time and become difficult to remove with store bought products. The whitening treatments we offer can be used in the comfort of your own home, and they can deliver impressive changes in just ten to fourteen days!
Use Orthodontic Clear Aligners To Fix Awkward Gaps And Spaces Between Your Teeth
Poorly aligned teeth can negatively affect the way you look as well as your oral health. We can actually take on these issues with discreet Orthodontic Clear Aligners appliances. These aligners can be easily worn without drawing unwanted notice, and they can can be removed at any time when they might be in your way. Orthodontic Clear Aligners aligners are made to produce results in less time than other orthodontic appliances, which means the results you want can be gained in less time than you expect!
Talk To Your Prairie Village, KS Dentist About Cosmetic Dental Work
Dr. Browne is prepared to help you deal with a variety of concerns about your appearance and oral health. With the right cosmetic dental services, we can take on problems that hurt your confidence and appearance in less time than you expect! To find out more, contact our Prairie Village, KS dental office today at 913-901-8585.