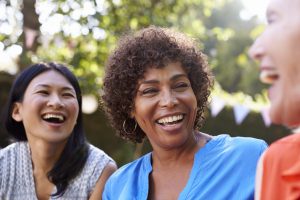 When a dental filling is not supportive enough to restore a tooth affected by dental decay, your Prairie Village, KS dentist can recommend the placement of a dental crown. Crowns are often used for cavity treatments as well as procedures to restore teeth affected by physical harm. It is important to provide a restoration that provides functional support as well as protection against infection. A crown provides these forms of defense by completely covering a tooth, taking on bite pressure while also keeping bacteria from being able to cause problems. One thing you should know is that the right material type for a crown can vary. For teeth that are further back in your mouth, strength and durability are important. While a front tooth also requires lasting protection, the impact of a restoration's appearance is also considered. We offer a variety of material types, including types that imitate healthy tooth structure!
Enjoy A Personalized Approach To Care
Any time a patient requires restorative dental work, we take care to provide treatment and a restoration that will deliver lasting support. Your care will include a careful evaluation to determine whether a filling or crown might be right for you, as well as what shape and size the restoration needs to be. These considerations can make sure that the tooth continues to enjoy support over time.
What Type Of Crown Is Right For Me?
Some teeth experience more wear and tear than others, as they play different roles in biting and chewing. Your molars and premolars are naturally capable of withstanding considerable pressure. If you need treatment on one of these teeth, we can make sure you continue to enjoy that support by offering a crown made from metal material. We can also discuss the use of a porcelain-fused-to-metal crown. If you have a front tooth that needs treatment, we can suggest the use a material like porcelain or zirconia, as these substances provide a close match for your enamel.
We Can Also Help You Avoid Problems That Demand Dental Crowns
Dr. Browne is prepared to help patients who need advanced restorative dental work. If necessary, we can provide root canal therapy before placing a crown, or bring you in for emergency dental care. With that said, remember that your dentist is ready to help you avoid problems, too! Through preventive dental care, we can keep your smile safe so that you avoid future restorative services.
Talk To Dr. Browne About Restoring Your Tooth With A Crown
Patients who visit Dr. Browne can enjoy treatment that protects a vulnerable tooth, restores their bite function, and gives them the ability to smile and speak with confidence. If you wish to find out more, please contact our Prairie Village, KS dental office today at 913-901-8585.