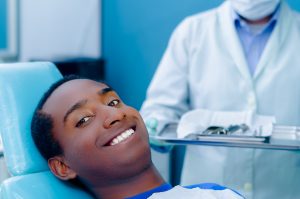 Your goal should be to keep your smile totally free of cavities. After all, the growth of decay does permanent damage to your enamel, and it puts you at risk for a painful tooth infection, problems that you should certainly try to avoid! Remember that daily oral hygiene practices, while important, are not your only line of defense against cavities. At your routine dental appointments, your hygienist will clean your teeth of all plaque and tartar present on them. The removal of tartar is particularly important, as this substance resists removal from toothbrushes and floss. At our Prairie Village, KS dentist's office, we provide a range of preventive and restorative services for patients. While we are prepared to restore a cavity that affects your smile, remember that we are also here to help you prevent troubles!
The Role Teeth Cleanings Play In Protecting Your Enamel
Your dental enamel stays healthy when you prevent the accumulation of oral bacteria and food debris on your smile. Doing this calls for consistent brushing and flossing efforts in order to fight the buildup of harmful particles that will occur throughout the day. On a routine day, you should brush at least two times, and you should also take the time to floss at least once. These habits matter, but they should not be the only work performed to clean your teeth. At every routine dental exam, your hygienist is able to protect you by cleaning any deposits of plaque or tartar that you may have missed during your daily sessions.
Are You Doing Enough To Stop Tartar Formation?
Better flossing and brushing will help you fight the formation of tartar. Tartar buildup is actually hardened plaque – when plaque deposits are not removed, they can calcify and become difficult to remove. While you are not able to fight tartar deposits that are already present, you are able to stop its formation by brushing and flossing thoroughly. Take at least two minutes to fully brush your teeth, and make sure that you are moving the floss string vertically so that you remove all harmful microbes present between teeth.
Teeth Cleanings And Your Periodontal Health
Regular teeth cleanings help you avoid problems with tooth decay and gum disease. If you already show signs of gum disease, an ultrasonic scaling can be performed. During this treatment, the cleaning of your teeth will go beyond cleaning above your gum line, and actually take care to remove bacteria on the roots of teeth. With the ultrasonic tool used to perform this procedure, we can break apart harmful deposits in a way that lessens discomfort during your visit.
Schedule A Teeth Cleaning At Your Prairie Village, KS Dentist's Office
Teeth cleanings provide you protection against harmful plaque and tartar buildup. To schedule your professional exam and teeth cleaning, please call Dr. Browne's Prairie Village, KS dentist's office at 913-901-8585.