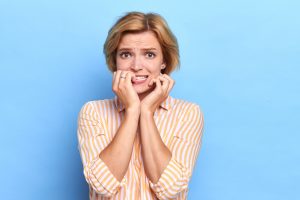 How can you make sure your smile is healthy when anxiety keeps you away from the dentist's office? For many people, dental anxiety creates a serious obstacle between them and their best oral health. After all, it can be difficult to keep your smile in good condition when you are not attending regular dental exams and cleanings. It can also be hard to make sure a potential problem with an aching tooth is addressed if you keep putting off your appointment. Our Prairie Village, KS dentist's office is aware of just how intrusive dental anxiety can be. For patients who struggle with this condition, we can make visits easier through sedation dentistry.
Avoiding Dental Work Can Lead To Trouble For Your Smile
If you are not seeing the dentist on a regular basis, there are several important oral health services that you will miss. Without regular checkups, a cavity that develops can worsen over time until the tooth aches because of an internal infection. If you miss out on professional dental cleanings, you can be vulnerable to a buildup of tartar that makes it hard for you to protect yourself against future threats.
Unfortunately, dental anxiety can cause people to put off treatment for potentially serious troubles even if they feel that something is wrong with their oral health. By ignoring a painful toothache, you can let an advanced cavity continue to do harm to your oral health, which can lead to alarming complications.
How Sedation Helps Patients Feel Relaxed In The Dentist's Chair
With the appropriate sedative, we can make your time in the dentist's chair easier, even during a restorative dental procedure. Nitrous oxide can be administered during your time in the dentist's chair in order to keep you in a relaxed state. This gas helps you remain comfortable, but allows you to remain aware of what is happening. For people with stronger feelings of anxiety, we can also recommend an oral sedative.
Don't Let Dental Anxiety Interfere With Your Healthy Smile!
If you want to keep your smile in good health for all of 2020 and beyond, visits to your dentist can be important. Every time you visit for routine dental care, you receive cleanings and evaluations that protect you against tooth decay and gum disease. We can also use these visits to talk with you about problems like TMJ dysfunction, which can be responsible for chronic headaches and other discomforts.
Dr. Browne Can Help You Enjoy Comfortable, Patient-Friendly Dental Care!
At our Prairie Village, KS dentist's office, Dr. Browne can provide you with important care in order to maintain your best, healthiest smile. If you have struggled with dental anxiety, we can help make your visit easier by providing dental sedation. To learn more or to schedule a visit with Dr. Browne, contact our office today at (913) 901-8585.