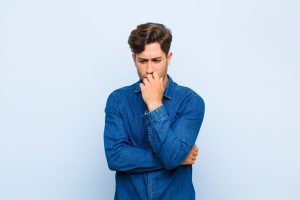 Is your periodontal health something you should be worried about? When an infection occurs, and it is not addressed in time, the harm to your oral health can be serious. People who develop advanced gum disease, known as periodontitis, are at risk for losing teeth, and their problem can make them more vulnerable to overall health concerns as time passes. Fortunately, there are symptoms you can watch out for in order to determine if you might have reasons to worry about gingivitis, the initial stage of an infection. You can also count on our Prairie Village, KS dentist's office to recognize signs of poor periodontal health during a routine dental exam. If there are concerns about your gums, we can respond by performing an ultrasonic scaling.
Watch Out For These Signs Of Gingivitis
While there are several changes that can occur when your gum tissues become infected, some symptoms of gingivitis are easier to spot than others. You can certainly notice a change if your gums begin bleeding whenever you brush and floss your teeth. What you can also watch out for are changes like swelling or reddening of periodontal tissues, and persistent issues with bad breath. When you notice signs of gingivitis, you can take immediate action by improving your brushing and flossing routine to fight the bacteria that have started attacking your gums. You can also count on your dentist's support.
An Ultrasonic Scaling Can Put A Stop To A Periodontal Infection
When patients are exhibiting signs of gingivitis, we can provide protection with an ultrasonic scaling. This procedure involves the use of an ultrasonic tool to clear away bacteria that have gathered beneath your gums in order to fight these harmful agents. The ultrasonic scaling is more advanced than a typical teeth cleaning provided at our practice, and it can be more time-consuming. With that said, this procedure can effectively protect you against the potentially serious effects of an advanced infection!
Want To Stay Informed About Your Dental Health? Make Sure You Have Checkups Scheduled
As the new year approaches, you should take the time to think about the actions you should take to have a healthy and happy 2020. If you do not have your next routine dental exam scheduled yet, make sure you have one arranged. By going in for routine care every six months, you can avoid potential problems with your dental health that require treatments like root canal therapy, or the placement of dental crowns.
Talk To Dr. Browne About Your Periodontal Health Concerns
At our Prairie Village, KS dentist's office, Dr. Browne is proud to provide important support whenever a patient shows signs of poor periodontal health. If you have questions about the condition of your gums, or if you have any other concerns about your dental well-being, please contact our office today at (913) 901-8585.