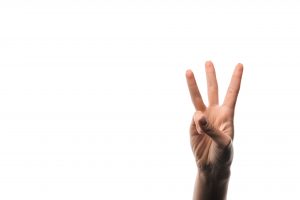 If you are currently guilty of any bad oral health habits, you may not have experienced the consequence in the form of tooth decay or gum disease…yet. As time passes, you can face a heightened risk for problems as tartar forms on your teeth, and makes it harder for you to clear away the bacteria attacking your smile. You can also be more likely to experience problems because of a gradual weakening of your enamel from erosion, and certain foods and drinks. If you want to keep your smile in great shape for 2020 (and beyond), look for bad oral health habits that you should leave behind in 2019. Our Prairie Village, KS dental practice can help you maintain your dental health at regular dental exams, which keep you safe from potential oral health threats!
1. Make Sure You Are Flossing On A Daily Basis
If you have not established a habit of flossing on a daily basis, you are leaving vulnerable spaces between teeth at risk for dental problems! These areas are hard to reach with brush bristles, but bacteria can have little trouble building up. If you want to avoid problems like gum disease and tooth decay, make sure your smile is completely cleaned by incorporating daily flossing into your current oral hygiene routine.
2. Look For Healthier Snacks
If you have a weakness for soft drinks, or a habit of picking up treats from the office vending machine, you may have a greater risk for tooth decay. Switching out harmful products with healthier, low-sugar snacks can make it easier for you to avoid dental fillings or dental crowns over time. You can also limit your risk for teeth stains by cutting items like soft drinks, coffee, tea, and other items that are known to cause problems for teeth color.
3. Make Sure You Are Consistent About Regular Dental Exams
If you have done a poor job keeping up with regular dental exams in the past few years, take your oral health seriously in 2020 and make sure your appointments are set! The regular care you receive is about more than just cleaning and reviewing your teeth. You also receive help with gingivitis, and your dentist can watch out for any potential signs of oral cancer that call for attention.
Dr. Browne Can Help You Take Great Care Of Your Oral Health!
At our Prairie Village, KS dental practice, we are ready to help individuals who want to keep their teeth and gums in good health. If you are trying to make up for bad habits in the past, or if you want to make sure your smile stays healthy in 2020, we are ready to provide important services to help you. For more information, contact our office today at (913) 901-8585.