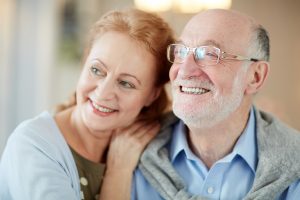 When you lose teeth over time, the issues with your oral health and appearance continue to worsen, which can seriously affect your quality of life. At the point where you have suffered significant losses, you may worry that prosthetic dental treatment can only offer limited benefits. At our Prairie Village, KS dental practice, we have experience restoring complete smiles for patients who require dentures. We can craft a custom restoration that returns your confidence in your smile, and also feels comfortable in place. We can offer both full and partial dentures to suit an individual's needs, and we can discuss securing your restoration to dental implants for added stability!
Tooth Loss Can Continue To Be A Problem For Your Daily Life
Just one missing tooth is all it can take to permanently compromise the way you bite and chew food. Losing several teeth, or an entire row, can significantly limit your diet. You can also find that tooth loss interferes with your ability to speak comfortably, and it can certainly impact your confidence. You should not feel resigned to the problems that your incomplete smile has created for you. With your full smile restored through prosthetic dental work, you can put a stop to daily frustrations!
Receiving A Custom Full Or Partial Denture
Depending on your individual need, our practice can use a full denture to replace a row of teeth, or design a partial denture to allow you to keep healthy teeth that remain in place. Every restoration we place is carefully designed to fit an individual's smile, and provide them with a more comfortable appearance. The natural look of your denture can help you appear younger, and make you feel more at ease with the quality of your smile.
Should You Have Your Denture Secured With Dental Implants?
Dental implants have brought exciting benefits to the field of prosthetic dental treatment. With a series of implants, it is possible for your dentist to secure your denture in place. The implants are set directly in your jawbone – because they are constructed of biocompatible titanium, your jaw will actually fuse with them during the healing process. Implants help preserve your oral health and appearance by stimulating your jawbone so nutrients are delivered to it. They also make sure dentures stay in their exact right place throughout each day, so they feel more comfortable for you.
Talk To Dr. Browne About Receiving A Custom Denture!
At our Prairie Village, KS dental practice, Dr. Browne is proud to help patients regain complete smiles with the placement of custom dentures! If you want to know more about the restorative services we provide, or if you are ready to set up an appointment, you can contact our office today at (913) 901-8585.