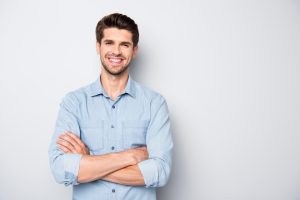 Cosmetic dental work can feel intimidating to someone who wants to make several corrections to the way they look when they smile. If you feel that your ideal smile is out of reach, you may not think to reach out to your dentist to see how attainable your improvements might be! With this in mind, you should know that our Prairie Village, KS dental practice can make significant changes to the way a person looks with porcelain veneers. When veneers are used to make corrections, patients can see positive changes to the shape, size, and color of their teeth. These restorations can even help you hide problems with poor dental alignment!
Veneers Provide Custom Cosmetic Improvements For Patients
Veneers have been effective in many circumstances because they can be custom-made to address a particular patient's smile concerns. When you meet with your dentist to discuss this cosmetic dental procedure, you can share what you want to see from your smile after your work is done. Based on this information, and on the current state of your teeth, your dentist can determine what they might require from custom restorations in order to reach your smile improvement goals.
What Makes Veneers Effective For Addressing Multiple Problems?
Veneers completely cover the front surfaces of teeth while leaving your remaining tooth structure intact. With minimal preparatory work, your veneers can be put in place to hide discoloration, cover up wear and tear, address damages, and generally improve upon the look of a tooth. The coverage they supply makes it possible to hide all of your smile concerns at one time – for many patients, porcelain veneers make it possible to reach all of their smile goals in as little as two appointments.
Discussing All Of Your Cosmetic Treatment Options
At our practice, our goal is to make major smile improvements possible through conservative work on your tooth structure. With this in mind, we rely on multiple cosmetic procedures to help people achieve their ideal results. While porcelain veneers make dramatic improvements possible, there may be another way for you to make improvements. For people who are bothered by dental discoloration, we can recommend a teeth whitening procedure to make their smile bright once again. If you have certain teeth that look unattractive, we can help by performing bonding and contouring work to address flaws without permanent restorations.
Talk To Dr. Browne To Find Out How Veneers Can Address Your Smile Flaws
At our Prairie Village, KS dental practice, Dr. Browne can help you show off remarkable smile improvements through the placement of porcelain veneers! If you have questions about veneers, or any other cosmetic treatment, we are ready to meet with you and discuss your goals. To learn more, contact our office today at (913) 901-8585.