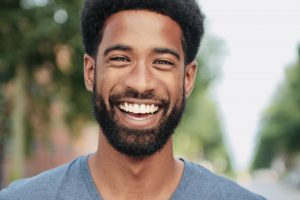 At our Prairie Village, KS dental office, we understand that the problems people have with their smile are not always rooted in oral health concerns. Your teeth may be healthy, but you can feel self-conscious because they look worn, damaged, discolored, and generally less attractive. If you find yourself covering up your smile, avoiding photographs, and just not enjoying the way you look, we can discuss your options for cosmetic dental treatment. For many people who want to see smile improvements, porcelain veneers can help! These custom cosmetic shells can hide any visible problems that affect the way you feel about your teeth, so you can begin smiling with true confidence!
Veneers Can Cover Up All Of The Flaws Affecting Your Smile
One particularly attractive feature of porcelain veneers is their ability to hide several flaws at one time. What this means is that you can do something about dental damage, discoloration, and problems with the way your teeth are aligned without having to work out a plan for multiple procedures. These restorations are durable enough to allow you to continue biting and chewing as normal, so your treatment should not interfere with your daily life.
Arranging Your Cosmetic Treatment
At your initial consultation, your dentist will perform a careful evaluation to see what state your smile is in. It is important that any oral health concerns are identified before moving forward with a procedure. If you have an unsightly tooth that requires some structural support, or one that is affected by a cavity, a dental crown can be more appropriate for you. We do offer lifelike crowns, so this can still result in smile improvement.
Once you are approved for treatment, you can move forward with a plan to improve your smile. Measurements of your teeth are used to design custom restorations, and some minor preparatory work can be performed to create space for your restorations. Once your veneers are ready, you can return to our practice to have them permanently bonded to your smile.
What Can You Do To Take Care Of Your Smile Over Time
With our without veneers, it is important to think about your future smile care efforts if you want to remain confident in your appearance. At regular dental exams, we can make sure your smile is healthy while also determining if your veneers are still in good condition. After your procedure, you and your dentist can discuss strategies for making sure your veneers remain in shape.
Talk To Dr. Browne About Restoring Your Smile With Custom Veneers
At our Prairie Village, KS dental practice, we are ready to help you take great care of your smile by providing porcelain veneers! To learn more or to schedule a visit with Dr. Browne, contact our office today at (913) 901-8585.