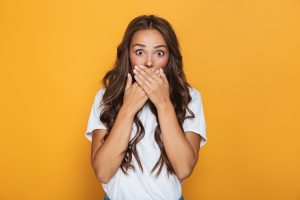 There are instances where a person's bad breath can have an obvious cause. For example, if you just finished a meal that was heavily garlic-flavored, you can be keenly aware that a mint might be appropriate. With that said, people sometimes find themselves struggling to cover up bad breath frequently, with no obvious reason why they are struggling with this matter. If you have an issue with persistent bad breath, you may be experiencing a symptom of gingivitis. It is important to take this problem seriously – if gingivitis is not managed in time, the problem can grow worse, and become difficult to manage. At our Prairie Village, KS dental office, we can provide an ultrasonic scaling to help you deal with this matter, and put a stop to chronic breath problems.
Are You Ignoring Signs Of Poor Periodontal Health?
A recurring issue with bad breath is one sign of periodontal trouble that you can identify. Other problems include gums that are sensitive to bleeding, a changing gum line, and tissues that appear swollen or red. If you have noticed these issues, but have not looked into treating the problem, you may be at risk for experiencing more severe periodontitis. This is a form of gum disease that can remain a problem over an extended period of time, while also putting you at risk for other health issues. This infection is also the leading cause of tooth loss for adults, so it can do significant harm to your smile and oral health over time.
Arranging An Ultrasonic Scaling With Your Dentist
An ultrasonic scaling is a modern approach to fighting bacteria that attack a person's periodontal tissues. During the treatment, your dentist uses ultrasonic technology to carefully remove bacteria that are present beneath your gums. When these unwelcome microbes are eliminated, your troubles with gingivitis can be stopped. If you are already dealing with periodontitis, this may be one step in a larger plan to help manage your oral health.
Tips To Help You Keep Your Gums In Good Health
The measures you take to protect your smile can also effectively protect your gums. You can stop bacteria from moving beneath your gums by effectively brushing and flossing. When these routine actions are performed, make sure you are cleaning thoroughly at your gum line. You should also make sure you see your dentist for regular dental checkups. During an evaluation, your dentist may detect problems with your teeth or gums that you have overlooked, which means restorative dental care can be provided before you start to feel unpleasant symptoms.
Discuss An Ultrasonic Scaling With Dr. Browne!
At our Prairie Village, KS dental practice, Dr. Browne is ready to provide patients with periodontal care in the form of an ultrasonic scaling. To learn more about this treatment, or to schedule a visit with Dr. Browne, contact our office today at (913) 901-8585.